BEST CHOICE FOR BIKEPACKERS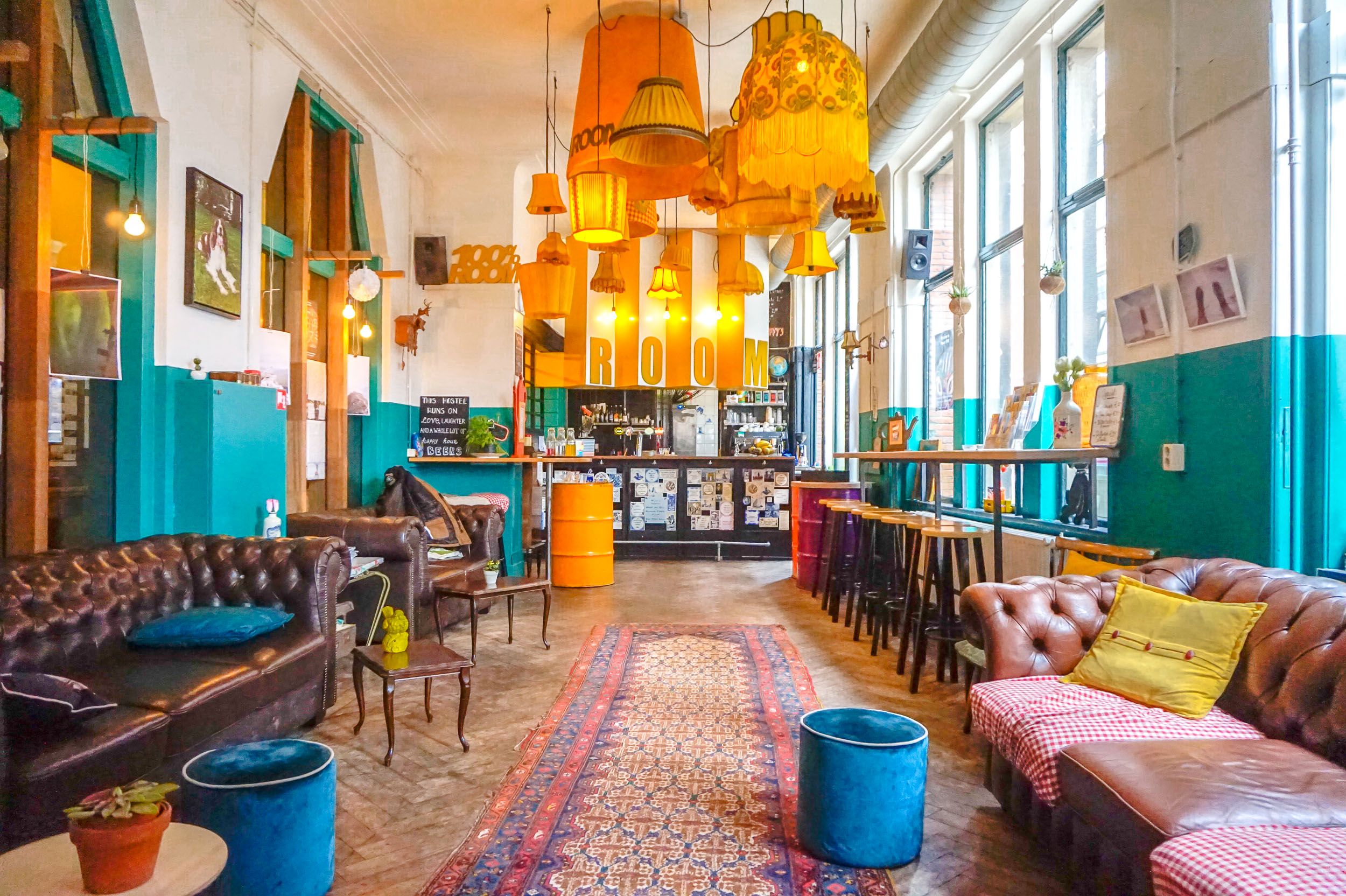 Een internationale sfeer en een home-away-from-home gevoel, dat is Hostel ROOM Rotterdam. ROOM ligt midden in het monumentale Scheepvaartkwartier en is daardoor een perfecte uitvalsbasis om de stad te ontdekken. Je hebt de keuze uit privekamers en familiekamers. Of je nu met je gezin, je partner of je beste vriend een fietstrip aan het maken bent, er is altijd wel een kamer die bij je past. Na een dag op de pedalen kun je relaxen in de gezellige foyer van het hostel onder het genot van een lokaal biertje en een lekkere pizza. In de ochtend staat er een smakelijk ontbijtje van de Boulangerie voor je klaar.
An international atmosphere and a home-away-from-home-feeling, this is hostel ROOM Rotterdam! Located right in the middle of the monumental 'Scheepvaartkwartier' in the city centre of Rotterdam! ROOM offers private rooms and family rooms. Relax at night in their cosy foyer with a locally crafted beer and a pizza and enjoy a heartiful breakfast in the morning from the Boulangerie next door!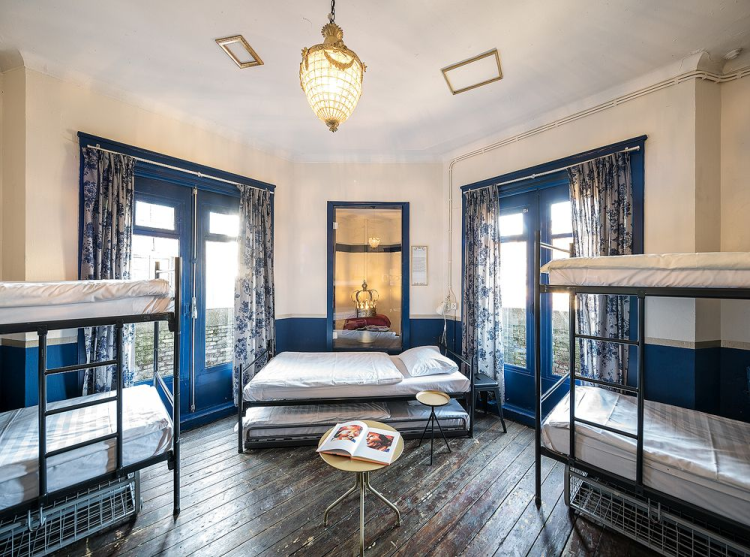 Family rooms with or without bathroom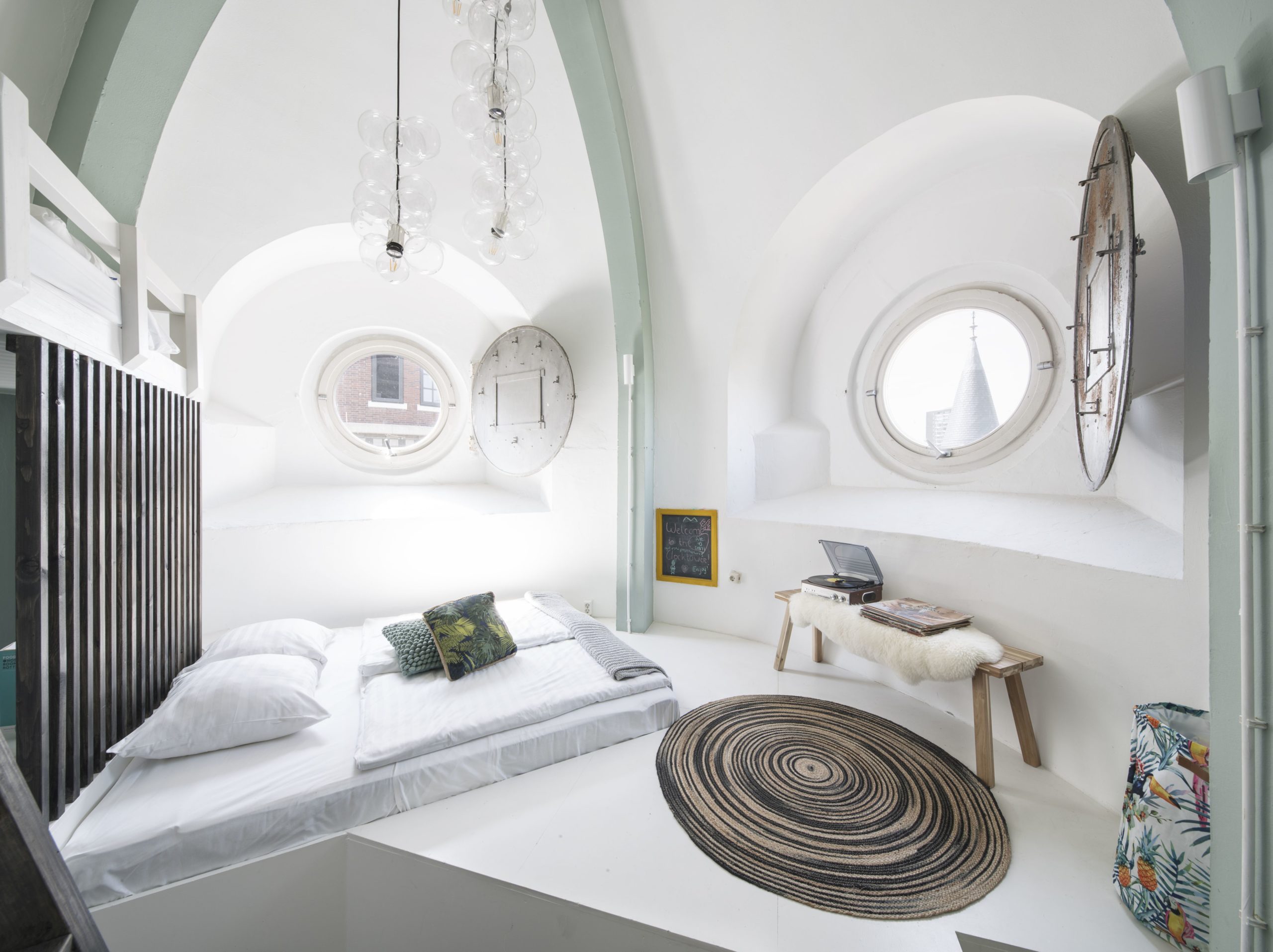 Private studio ensuite with terrace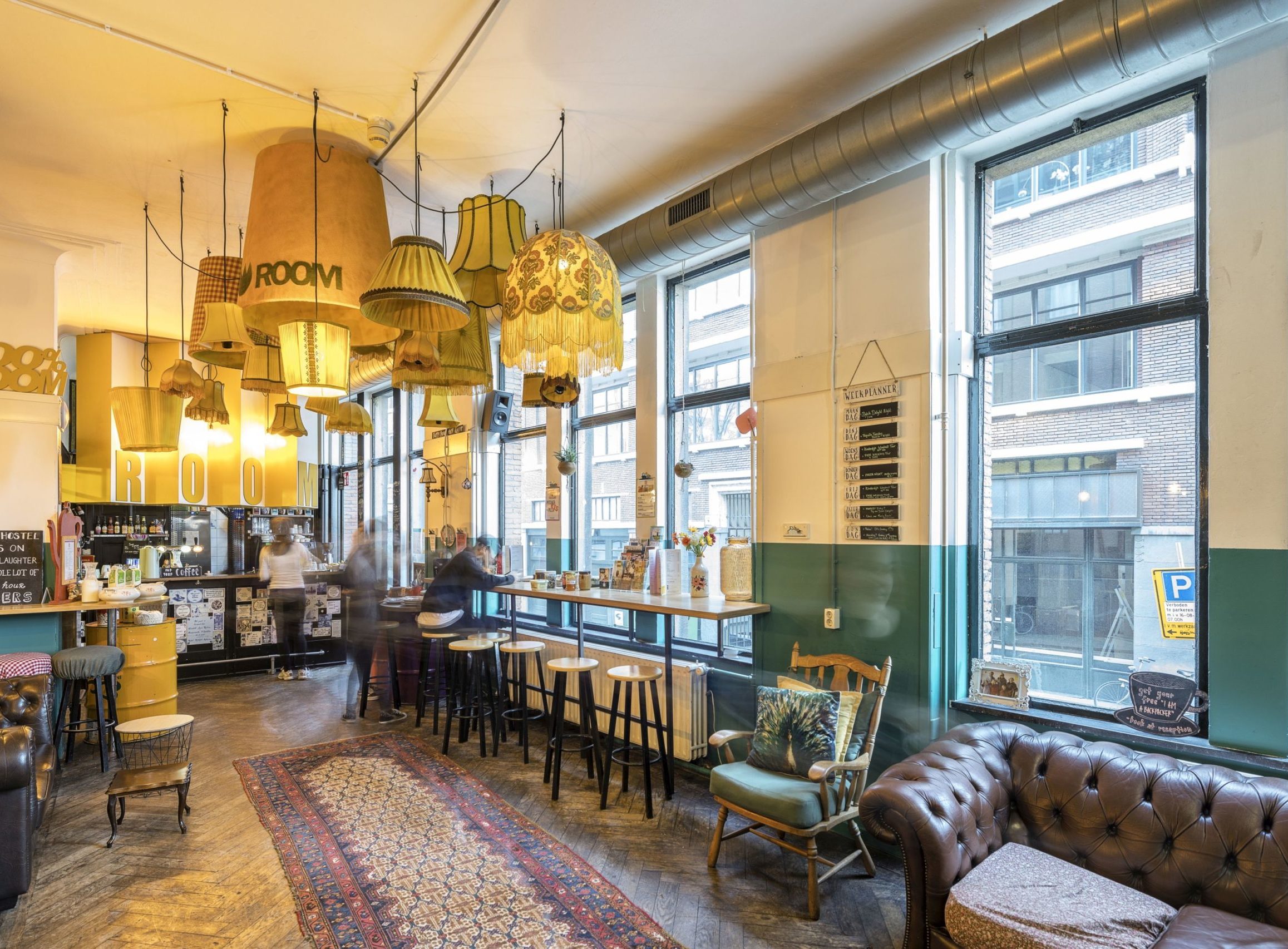 Cozy lounge with bar for food & drinks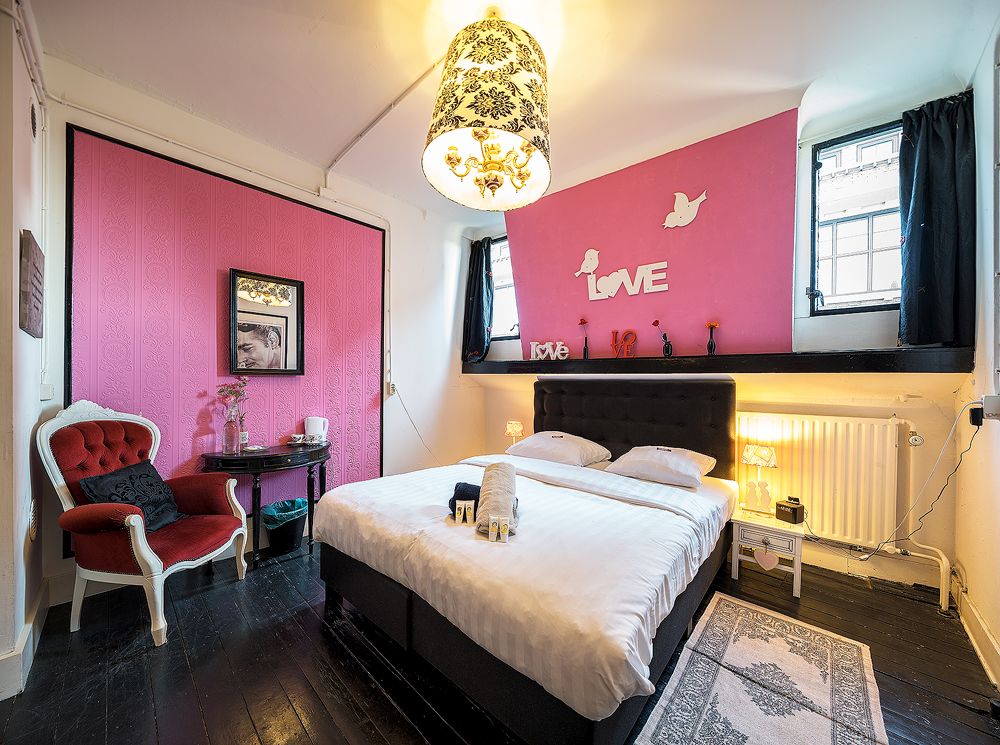 Dit voormalige bankgebouw en prachtige rijksmonument biedt luxe privékamers en ook kamers met gedeelde voorzieningen. Roots ligt op een steenworp afstand van het Centraal Station en vlakbij de vele pareltjes die de stad te bieden heeft. Er is een knusse 'basement' bar, een sfeervolle living en een ruim terras. Het ontbijt is inclusief voor de 'bikepacker' en kun je upgraden naar een extra uitgebreide variant. Ook zijn er diverse opties voor lunch en diner. Hostel Roots is de ideale plek om te bezoeken, jezelf weer op te laden en van daaruit met een goed gevulde maag en opgepompte banden verder op pad te gaan!
This former bank building offers luxurious private rooms as well as rooms with shared facilities. Roots is ideally located; just a stone's throw from the central train station and close to many of Tilburg hotspots. There's a cozy 'basement' bar, a pleasant living room and a spacious terrace. Breakfast is included for the 'bikepacker' and can be upgraded to an extra extensive breakfast. There are also several options for lunch and dinner. Hostel Roots is the ideal place to recharge your batteries and get on the road again with a well-filled stomach and inflated tyres!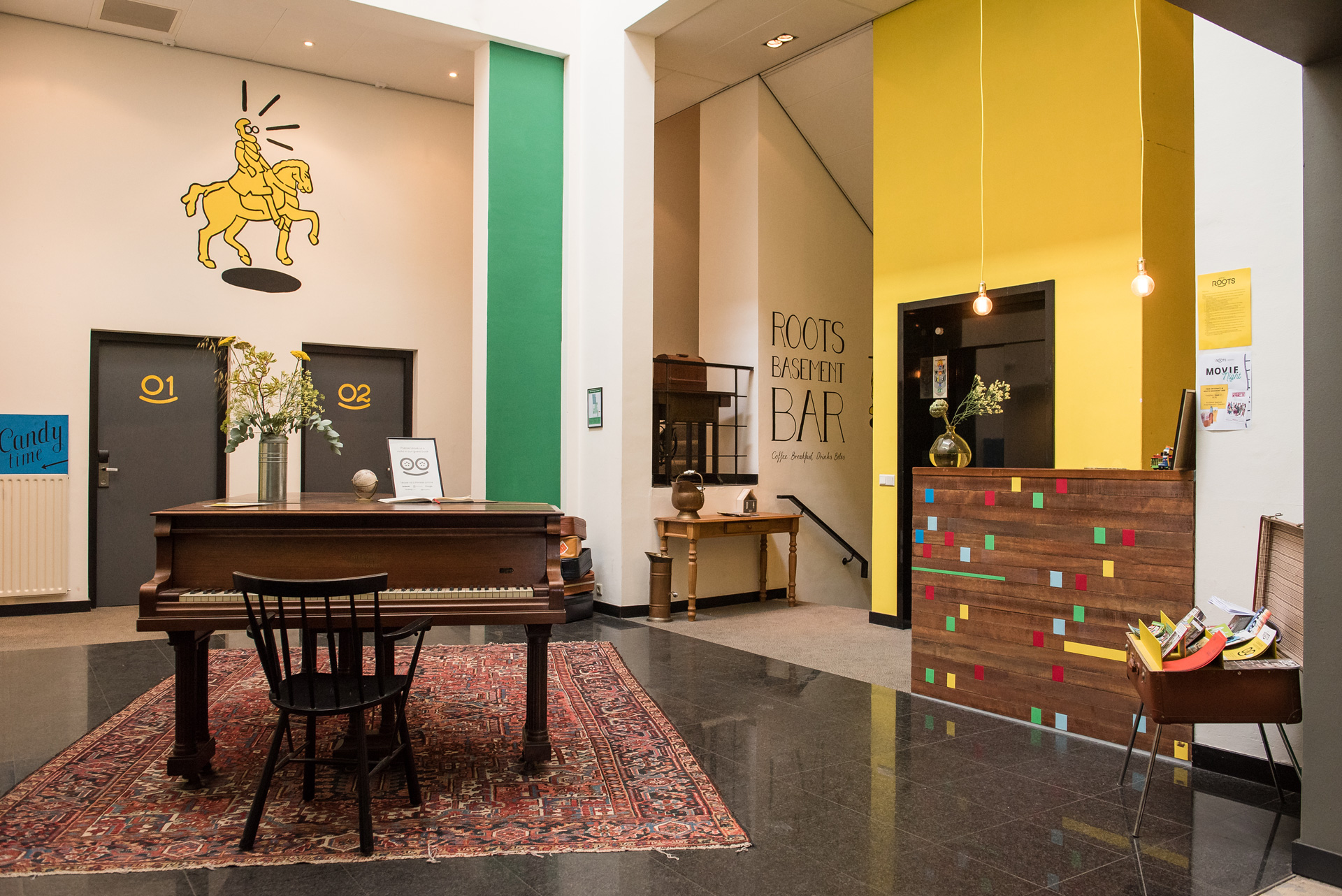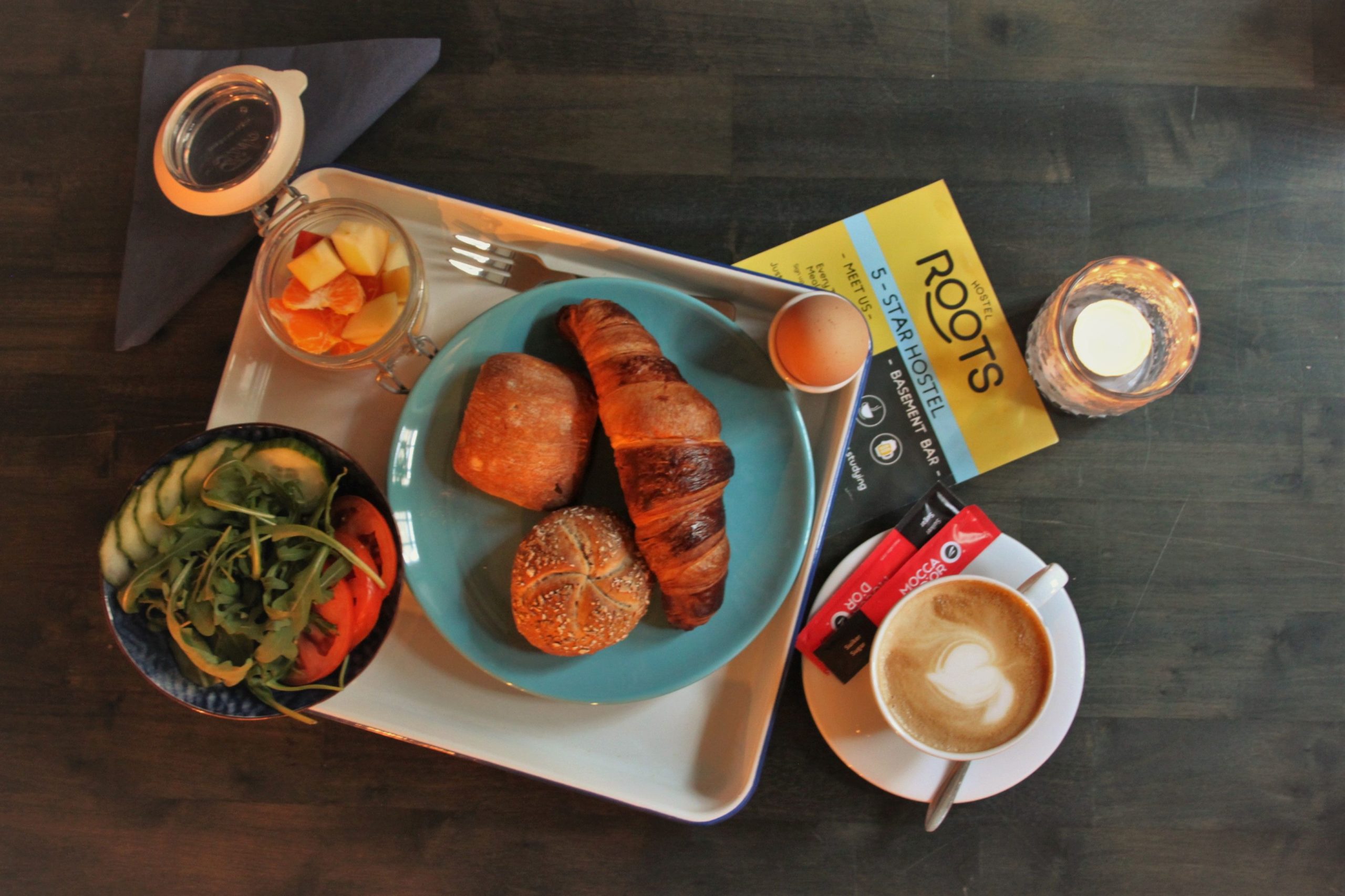 Luxury breakfast @ hostel ROOTS

Superior family room ensuite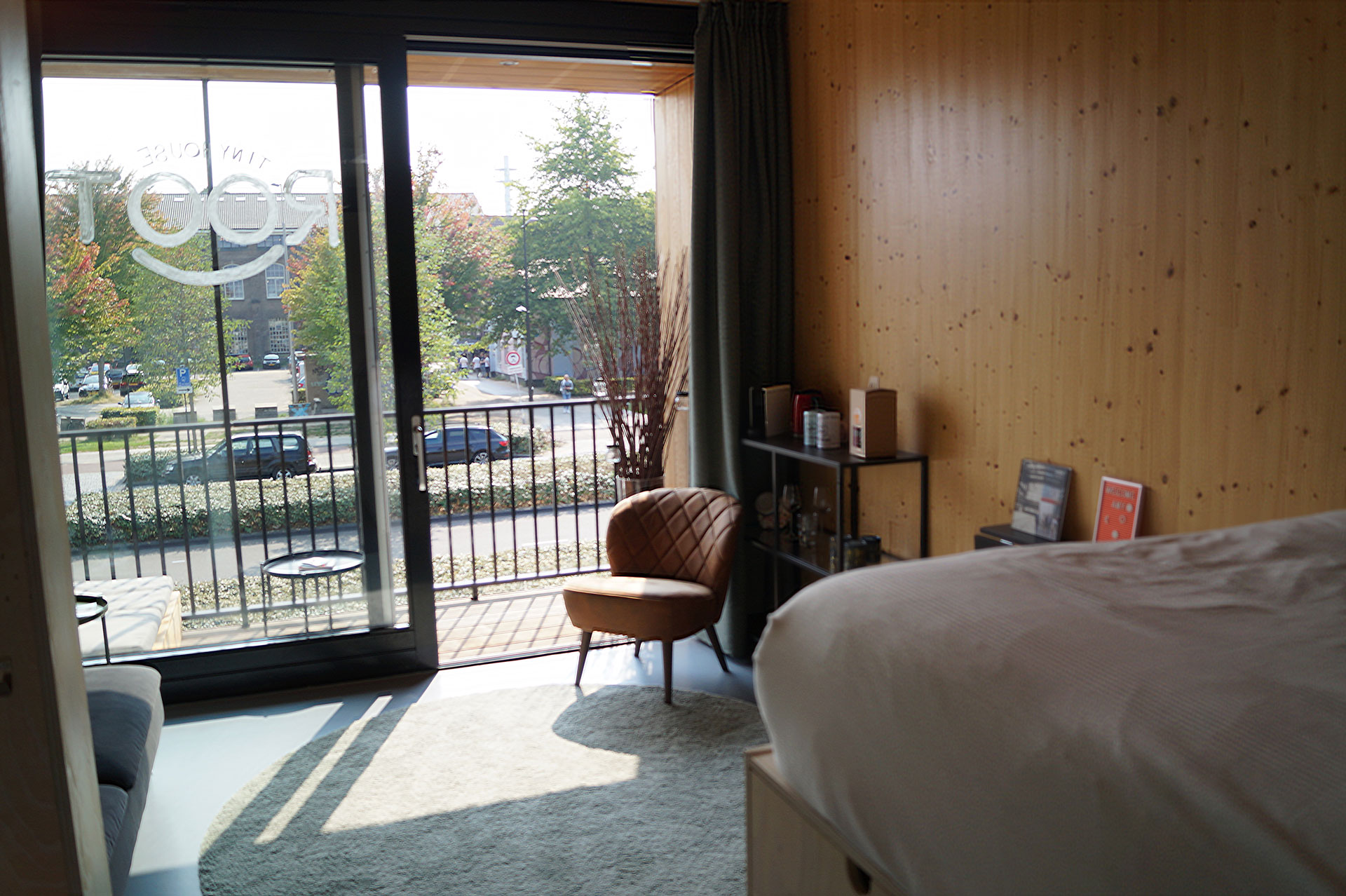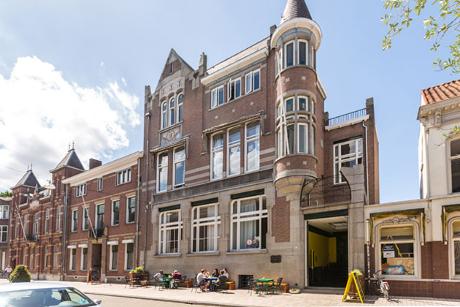 Charming monumental building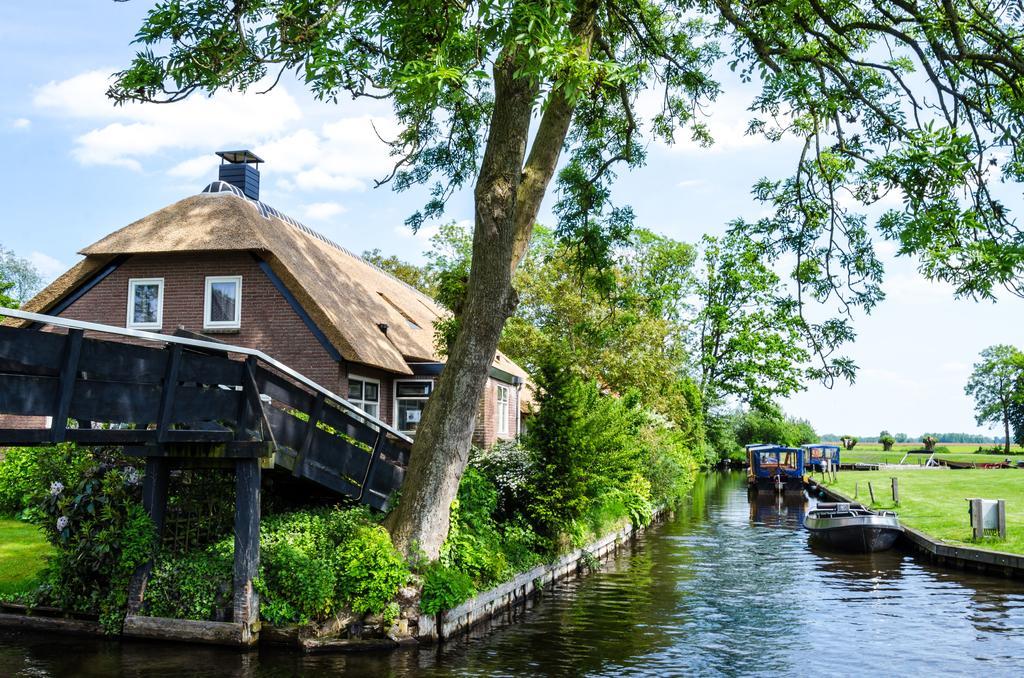 HOSTEL THE BLACK SHEEP GIETHOORN
Wat is de Black Sheep Hostel toch een heerlijke plek! En echt een plek voor iedereen, want iedereen is welkom in deze Giethoornse accommodatie. Of je nu met je hele gezin op fietsvakantie bent of gewoon met z'n tweetjes, of je nu 20 bent of 60, de Black Sheep is geschikt om te socializen en uit te rusten! The Black Sheep hostel huist in een schitterende boerderij op een bijzondere locatie, nabij het centrum van Giethoorn, op een machtig mooi stukje grond.
The Black Sheep hostel truly is a wonderful place! And a place for everyone, because the Black Sheep hostel in Giethoorn welcomes travellers of all ages and all walks of life. Whether you are on a cycling trip with your family or just the two of you, the Black Sheep is the accommodation to socialize and relax in. We welcome you in this beautifully situated farmstead and bet it will soon be your favorite spot!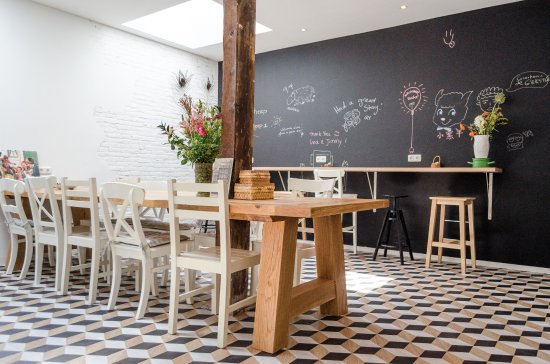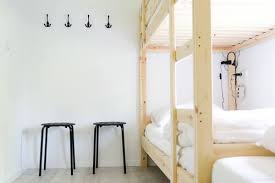 Cozy and comfortable rooms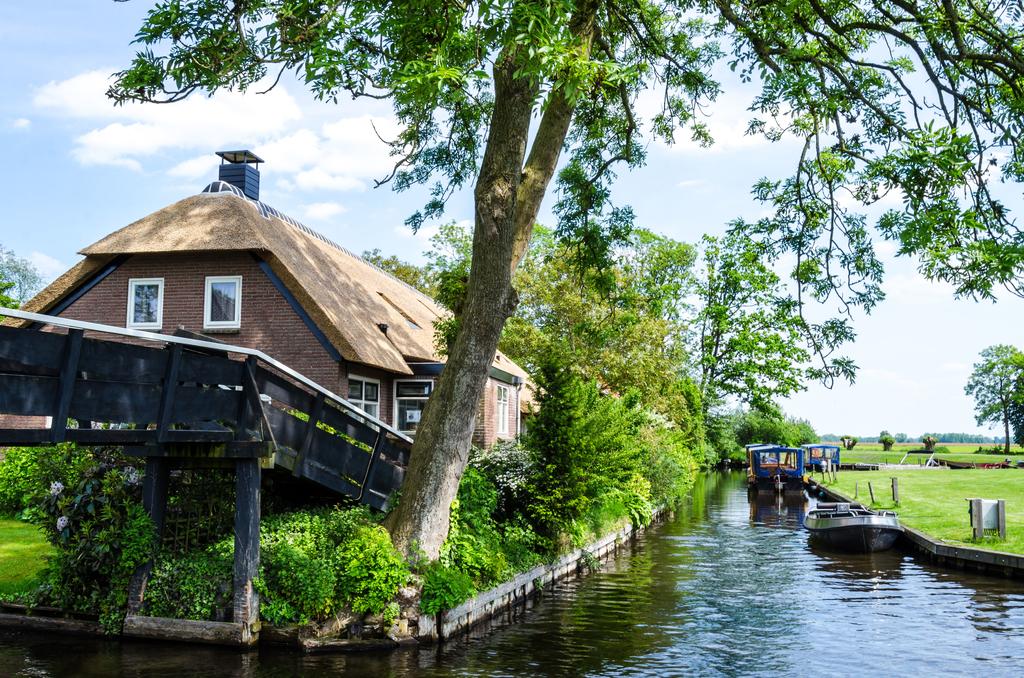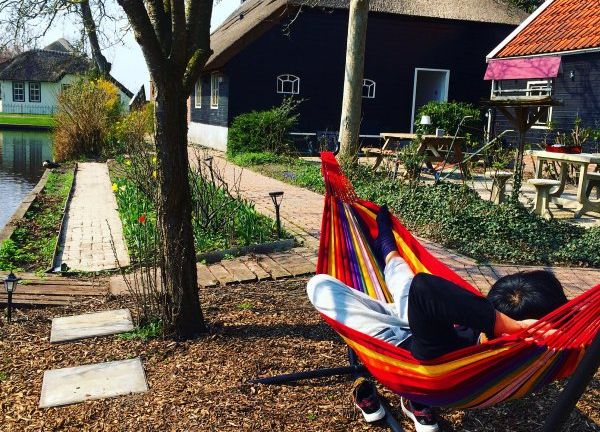 Relaxing garden & hammocks!

Slapen als een vorst in hostel Kings Inn in Alkmaar! Dit hostel, in het centrum van de stad, heeft een eigentijdse en sfeervolle look. Er zijn twee-, vier-, zes- en achtpersoonskamers en iedere kamer heeft een eigen badkamer en toilet. In de ochtend kun je rustig opstarten en genieten van een uitgebreid ontbijt. Ook voor lunch en diner ben je bij Kings Inn aan het juiste adres, want het hostel heeft een eigen brasserie met uitgebreide menukaart. Als je nog puf hebt na een dag op de fiets, verwissel dan het asfalt voor het water en huur een waterfiets bij het hostel en bekijk Alkmaar op geheel andere wijze!
Sleep like a king in the Kings Inn hostel in Alkmaar. This hostel in the city center has dorms and private rooms. There are rooms for two, four, six or eight people and each room has its own bathroom facilities. You can start your day slowly and ease down with a breakfast in the hostel's in-house brasserie. This brasserie is naturally a perfect place for lunch and dinner as well. If you still have energy after a long day of cycling, make sure you rent a rent a hostel-facilitated pedal boat and experience Alkmaar in a whole different manner, moving across the Alkmaar canals!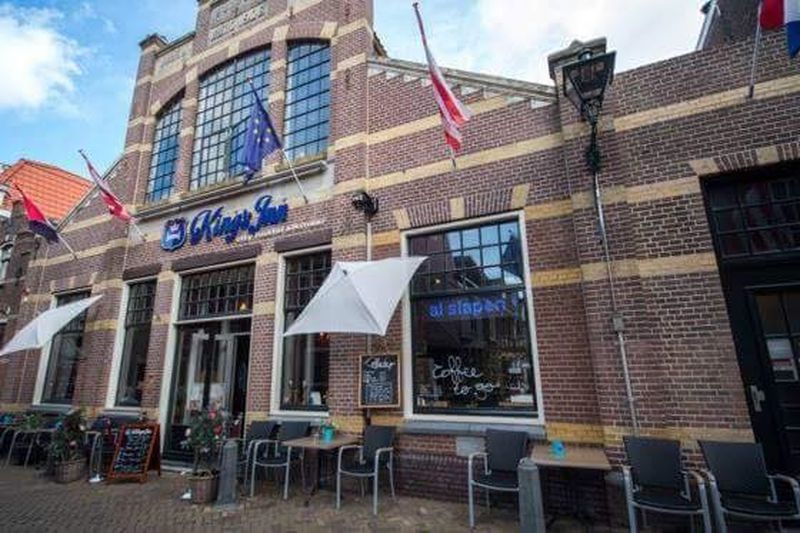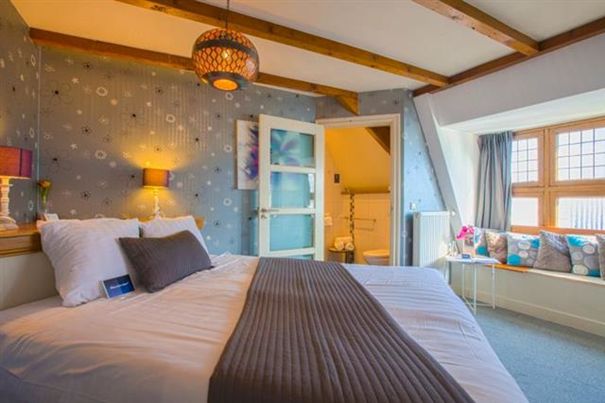 Deluxe hotelkamer Kings Inn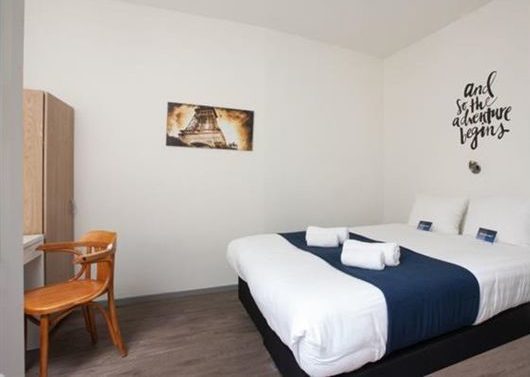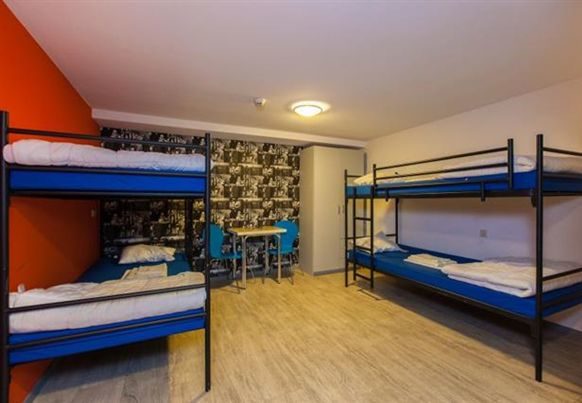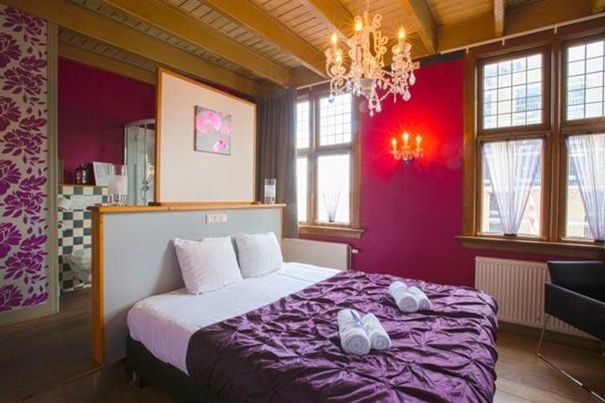 Deluxe hotel room Kings Inn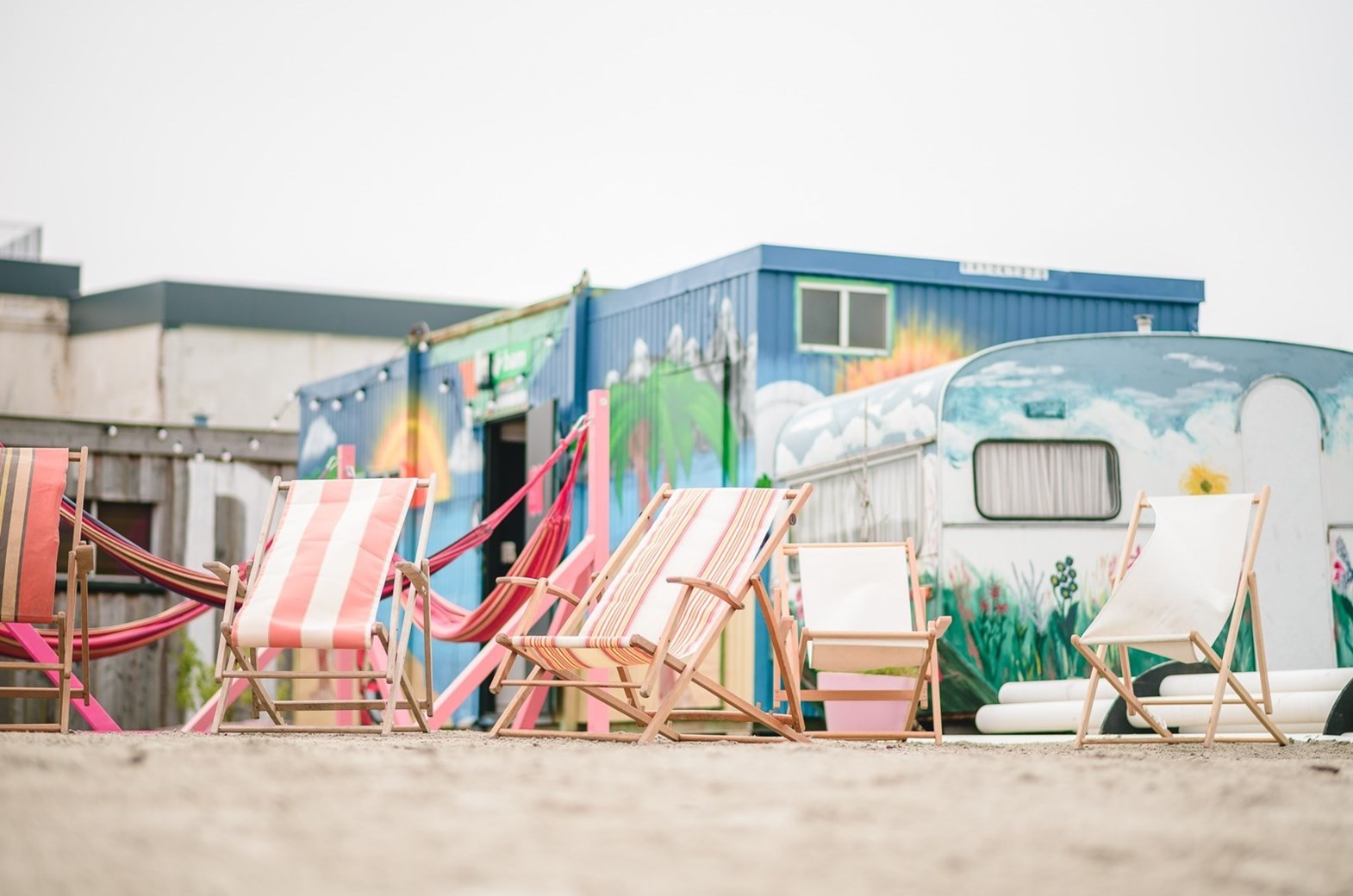 REBEL REBEL HOSTEL GRONINGEN
In een bijzondere stadsoase net buiten het centrum van Groningen vind je Rebel Rebel hostel. Dit unieke hostel is gelegen op het terrein van een voormalige suikerfabriek en is het enige containerhostel in het noorden van ons land. Het is helemaal gebouwd volgens de principes van UpCycling en duurzaamheid en past daarom perfect als bestemming in een duurzame en gezonde fietsvakantie. Pluk kruiden in de pluktuin van het hostel en creëer je eigen gezonde maaltijd in de gemeenschappelijke keuken. Bestellen van de kaart kan ook. Dit hostel heeft verrukkelijke vegan opties en heerlijke lokale biertjes. In de ochtend kun je een lekker uitgebreid ontbijt bestellen!
Just outside the city center of Groningen you will find Rebel Rebel Hostel. This hostel is located in a small oasis of a former sugar factory and it's the only container hostel in the north of our country. Rebel Rebel hostel is built completely sustainable, and therefore fits perfectly in your green and healthy cycling holiday. You can order delicious vegan meals from their menu as well as locally crafted beers. Make sure you kick-start your day by ordering our delicious and complete breakfast.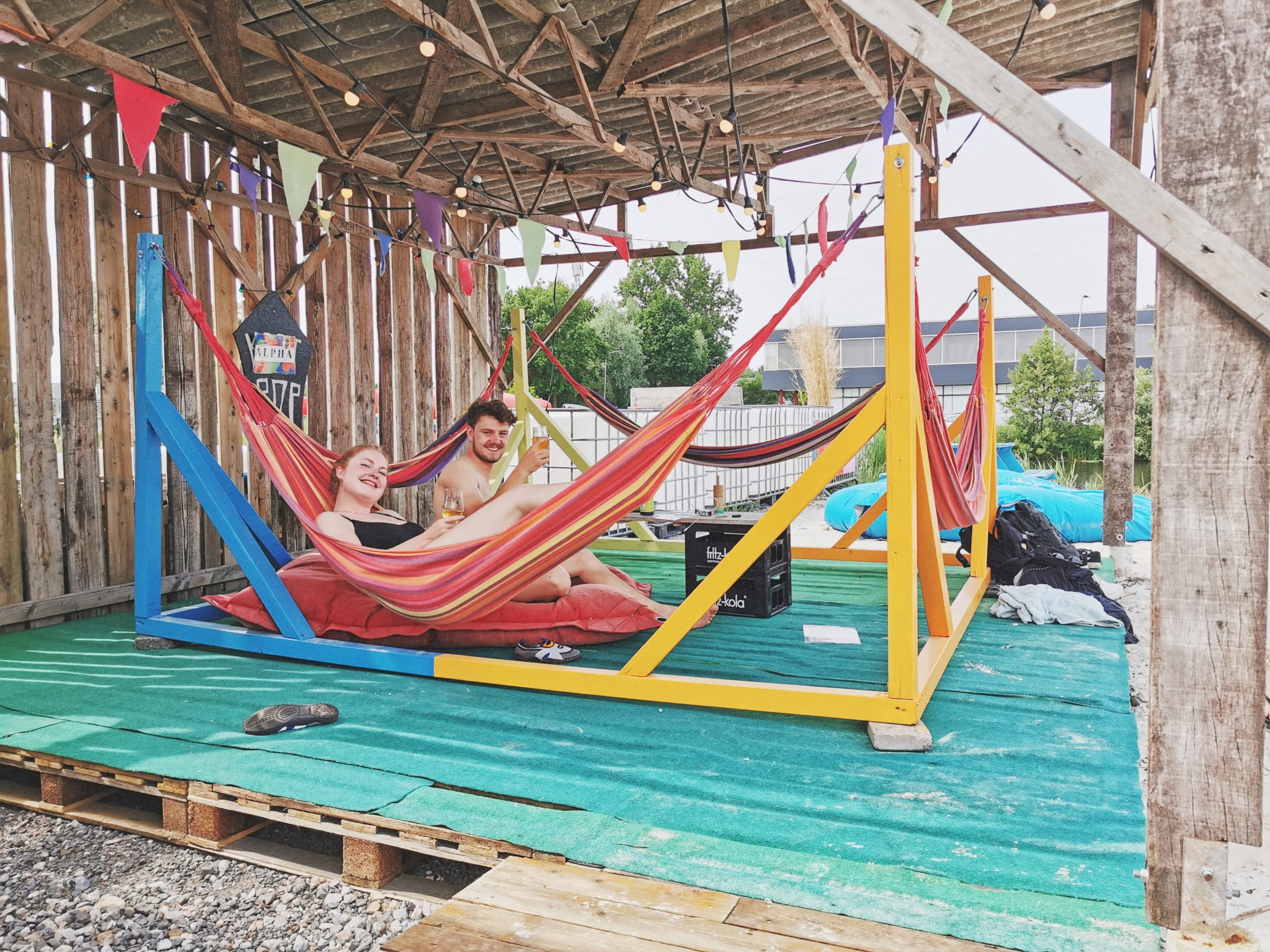 Beach Hammocks @ Rebel Rebel hostel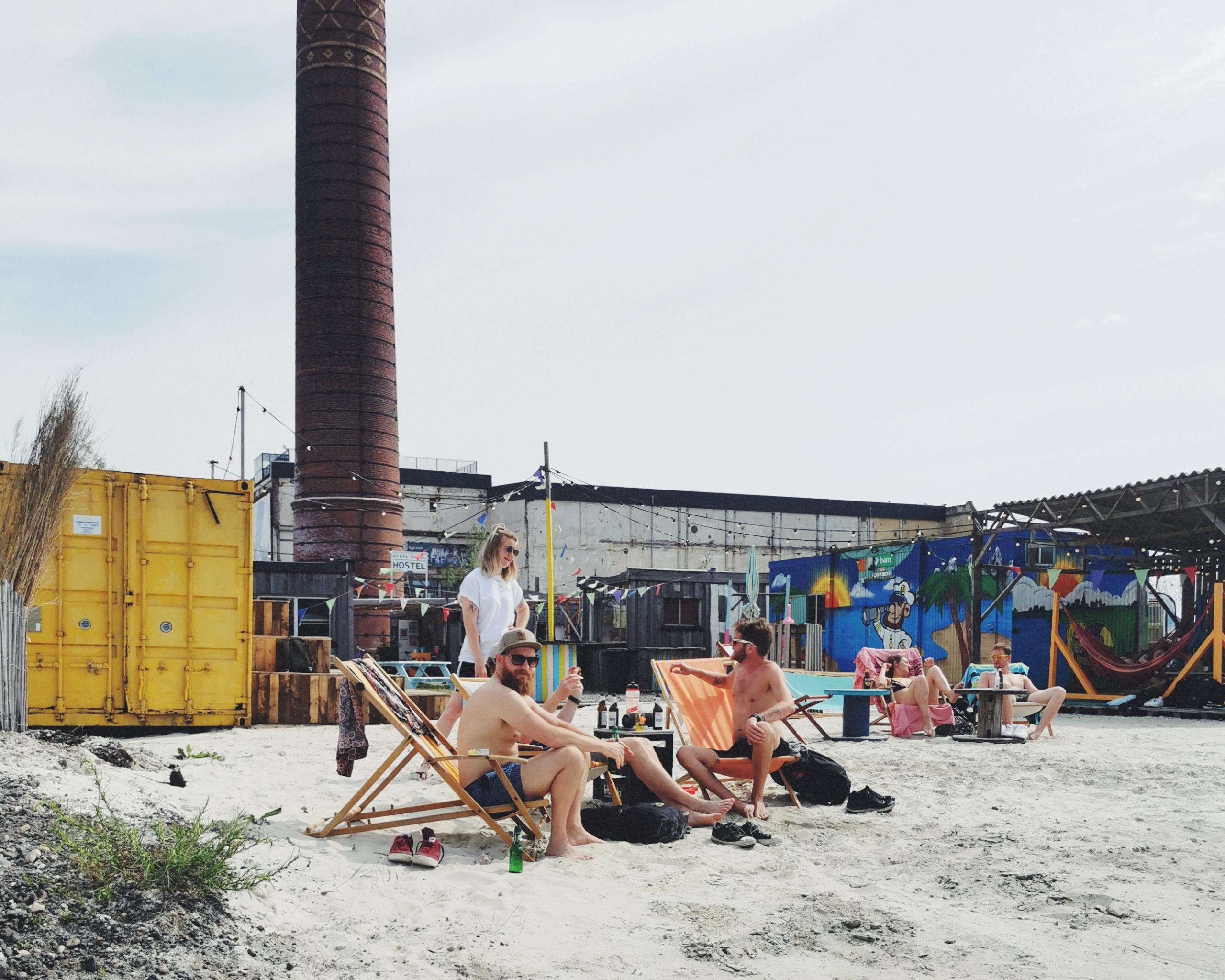 Beach chill @ Rebel Rebel hostel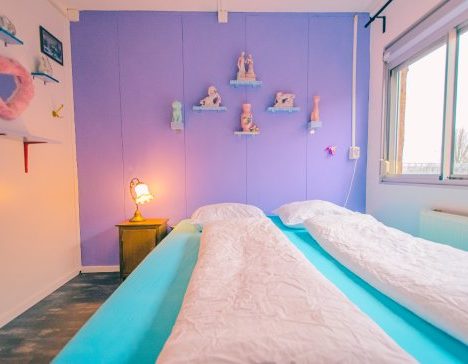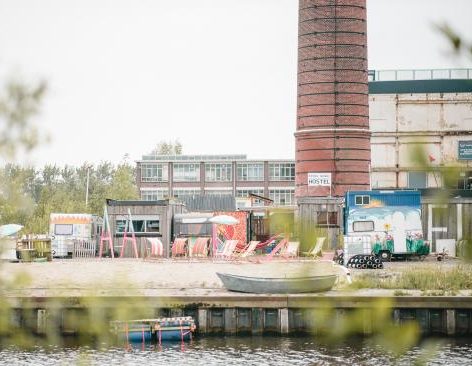 HARBA LORIFA VALKENSWAARD
Midden in de bossen van Valkenswaard ligt Hostel Harba Lorifa. Een ideale plek voor gezinnen en individuele reizigers om te genieten van de natuur, de rust en de Brabantse gezelligheid. Er zijn 4-, 6- en 8-persoonskamers, vaak met eigen badkamer. Maar het hostel heeft ook gezellige boshuisjes met een klein keukentje en woon- en slaapgedeelte. 's Avonds kun je relaxen in de bar of een golfballetje slaan met Adventure Golf op de negen holes tellende minigolfbaan van het hostel. Hoe leuk is dat!
Hostel Harba Lorifa is located in the woods of Valkenswaard. It is a great base for families and individual travellers to enjoy nature, tranquility and Brabant hospitality. Hostel Harba Lorifa has rooms with either 4-, 6- or 8 beds often with their own bathroom. Moreover, the hostel has cozy forest houses with a small kitchen and living and sleeping area. In the evening you can relax in the bar or play a game of Mini Golf in the hostel's Adventure Golf! How cool is that!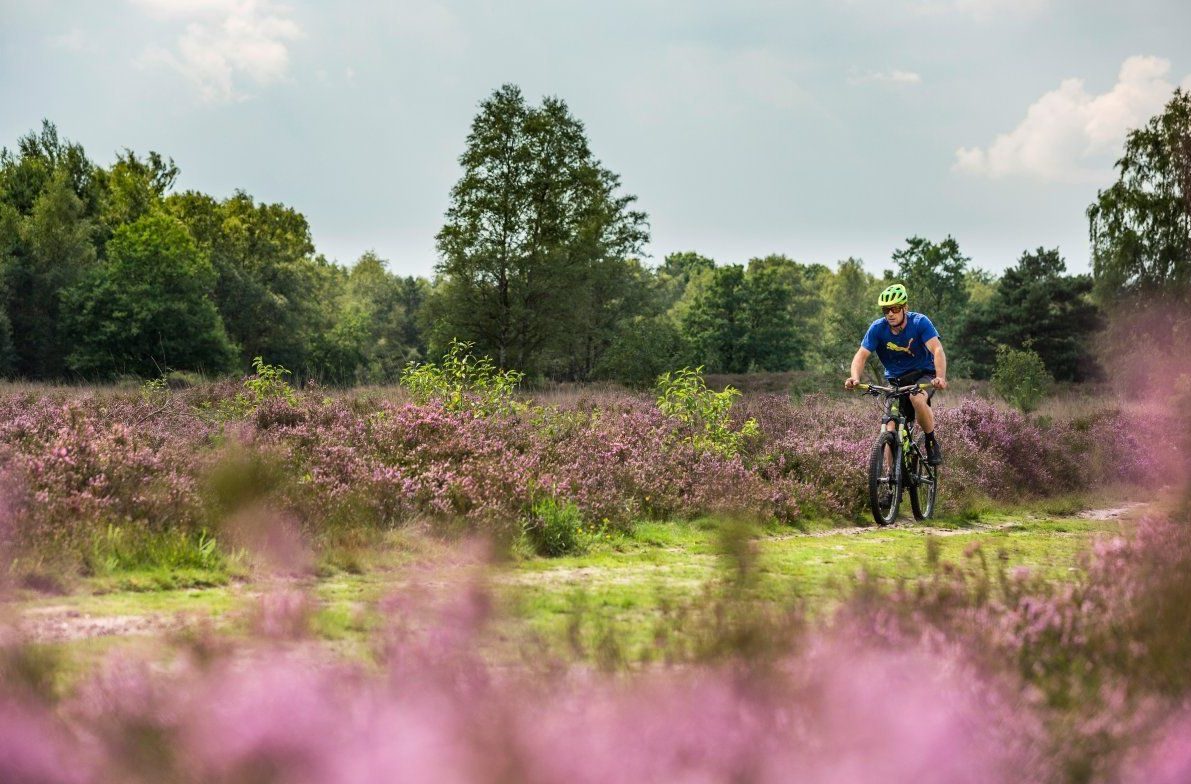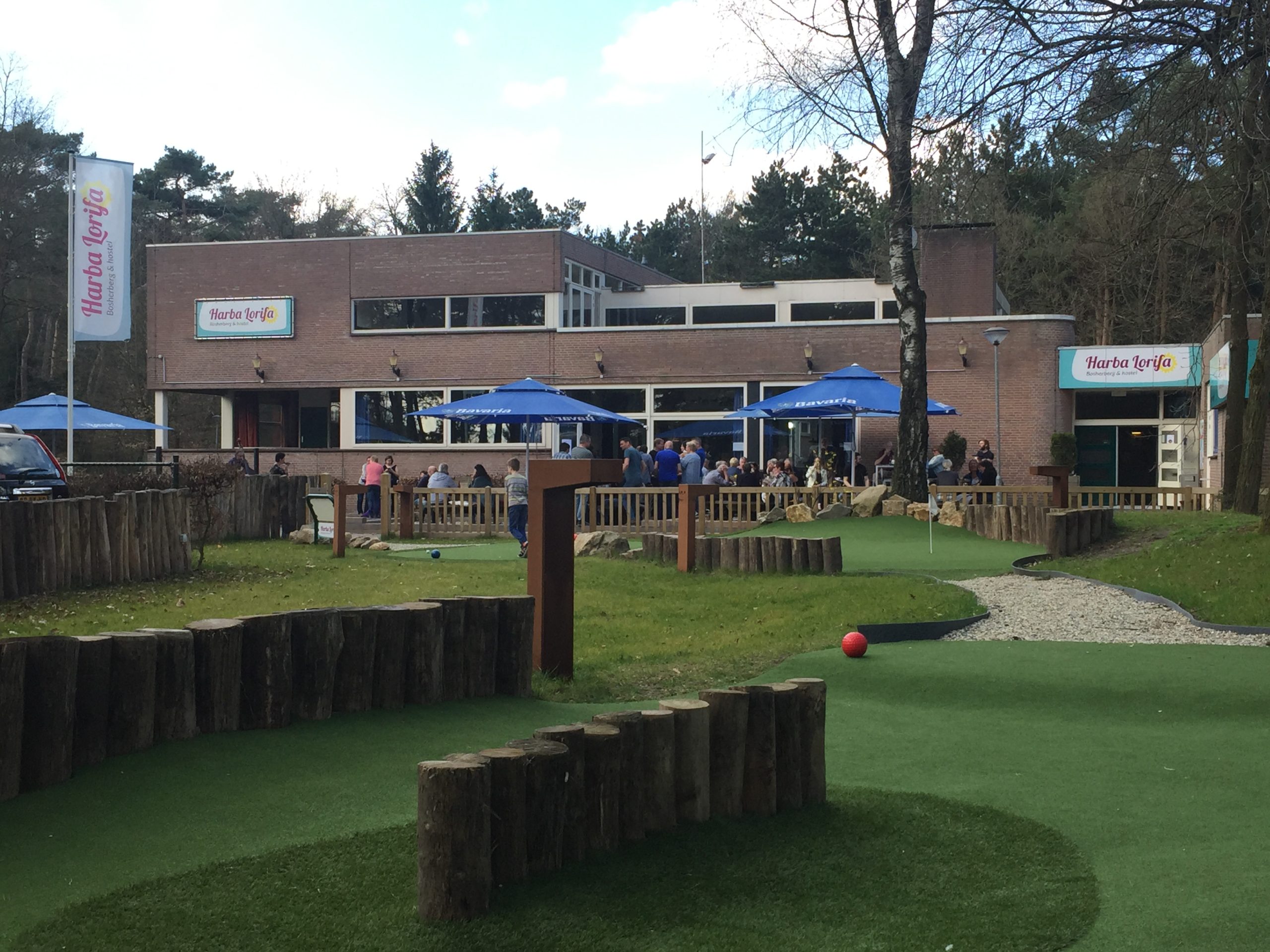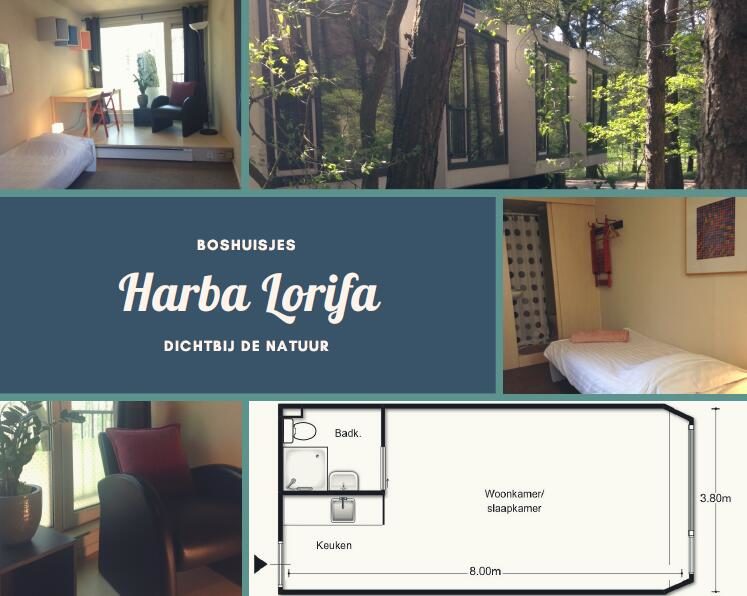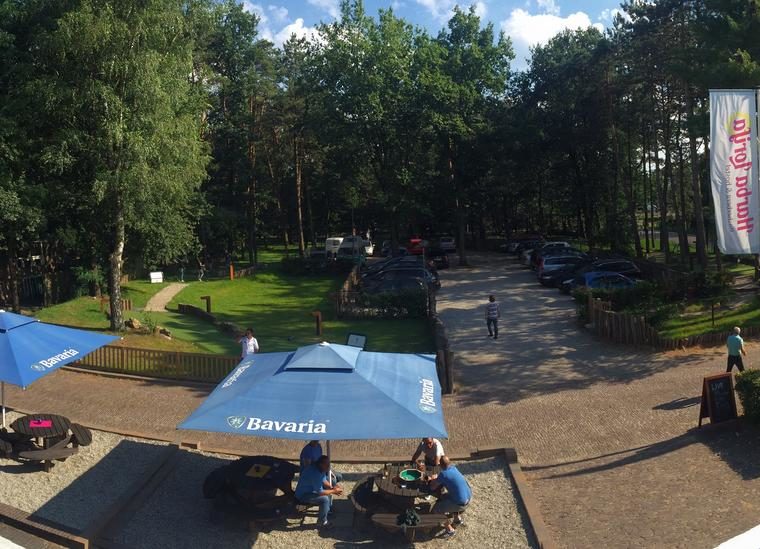 Beautiful green environment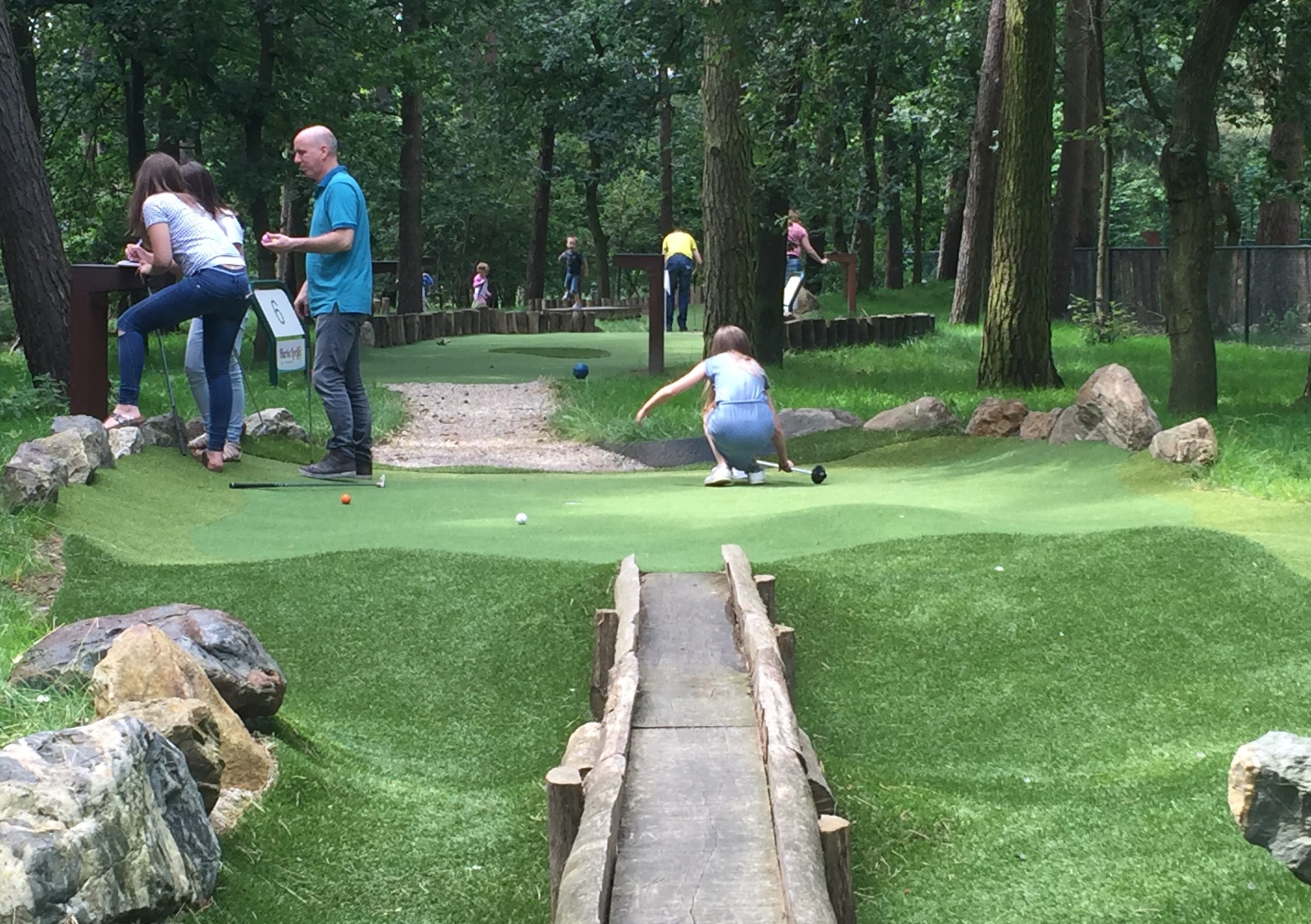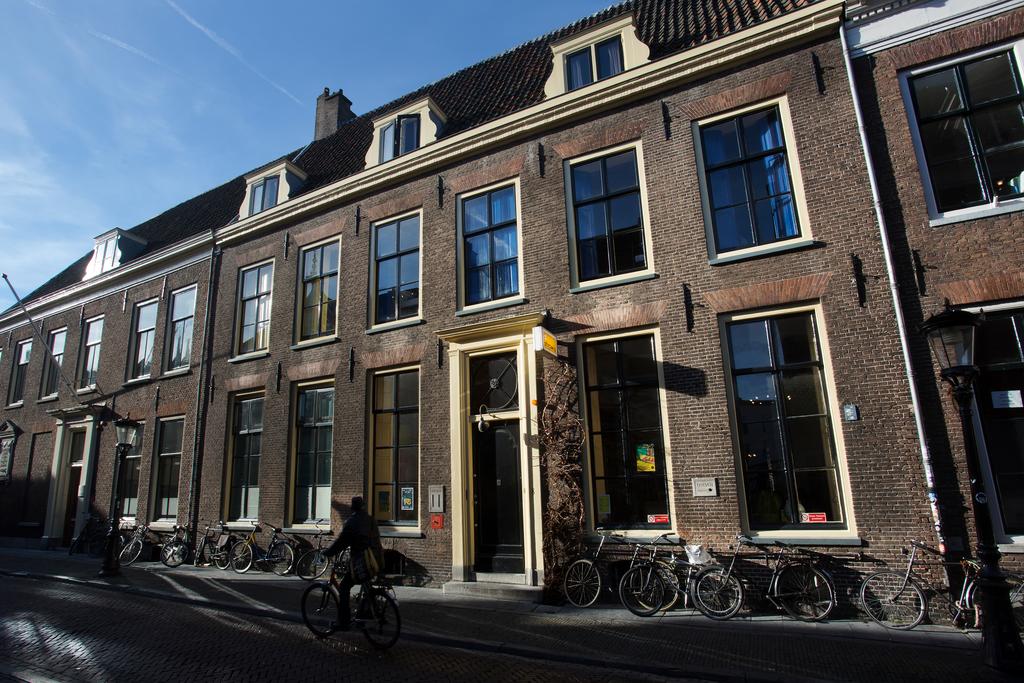 Na een lange fietsdag is hostel Strowis je gezellige thuishonk in het hart van Utrecht. Strowis is gevestigd in een charmant en authentiek 17e eeuws pand en ademt een en al sfeer en gezelligheid. Er zijn privékamers en gedeelde kamers en er is een gastenkeuken waar je zelf een heerlijke maaltijd kunt bereiden. In de tuin kun je 's avonds tot rust komen met je benen omhoog en een drankje in je hand, om je zo voor te bereiden op een volgende fietsdag. Leg de basis voor een perfecte (fiets) dag met een uitgebreid ontbijt in het hostel en boek op verzoek ook een lunchpakket bij.
After a long day of cycling, hostel Strowis is your comfortable home base in the center of Utrecht. Strowis is located in a charming and authentic 17th century building and breaths atmosphere and cheerfulness. It has private and shared rooms and there is a guest kitchen where you can prepare a delicious meal yourself. In the garden you can relax and shape your plans for the next cycling day. Invest in your perfect day with a hearty hostel breakfast in the morning. You can also book a packed lunch on request.
FLYING PIG BEACH HOSTEL NOORDWIJK
Slapen nabij het strand en in slechts 5 minuten met je voeten in de branding staan na een lange dag in het zadel? Boek dan een overnachting in het Flying Pig Beach Hostel in Noordwijk. Dit hostel geeft je het ultieme strandgevoel en vooral de locatie is geweldig. Strand, duinen en bos op loopafstand. Er zijn privékamers en dorms en 's ochtends staat er een heerlijk ontbijt voor je klaar. Eenmaal uitgerust na een dag op de pedalen, kun je nog een surfboard van het hostel lenen en nog even de zee induiken!
Would you like to sleep next to the beach and be able to dip your feet in the water after a long day of cycling? Then book an overnight stay at the Flying Pig Beach Hostel in Noordwijk. The beach, beautiful dunes and forest are all within a walking distance and this hostel gives you the ultimate laid back vibes that accompany a beach vacation. The Flying Pig Beach Hostel has private rooms and dorms and a delicious continental breakfast will be waiting for you in the morning. If you still have energy after a long day of cycling, then make sure you borrow a surfboard for free from the hostel and catch some late afternoon waves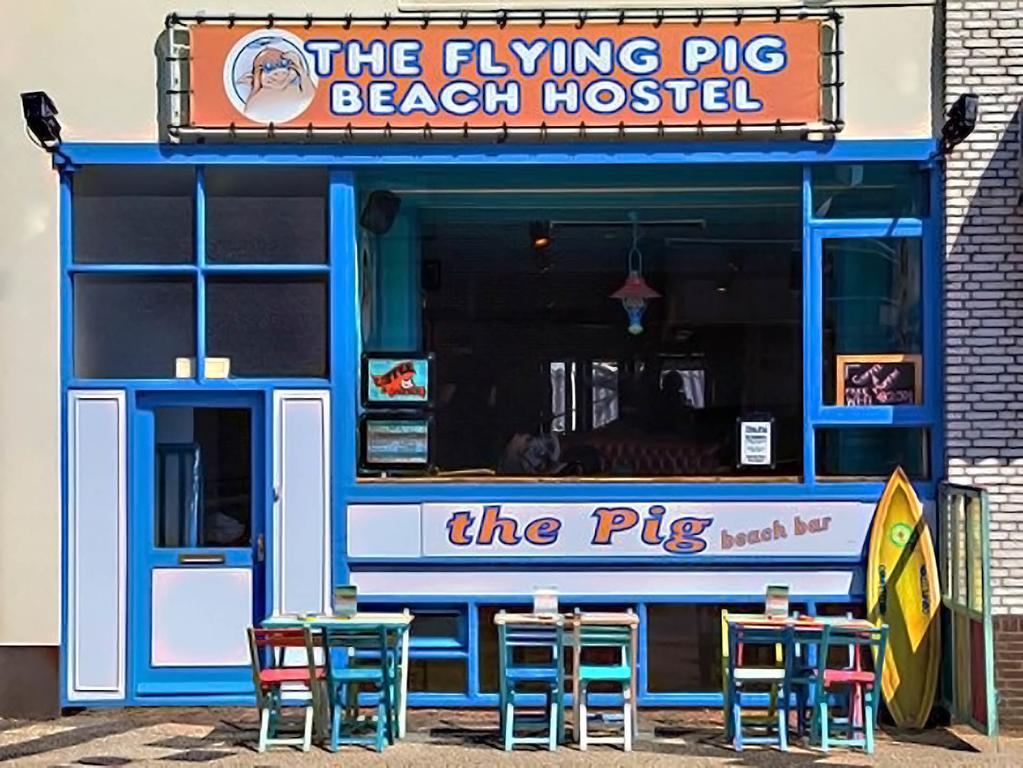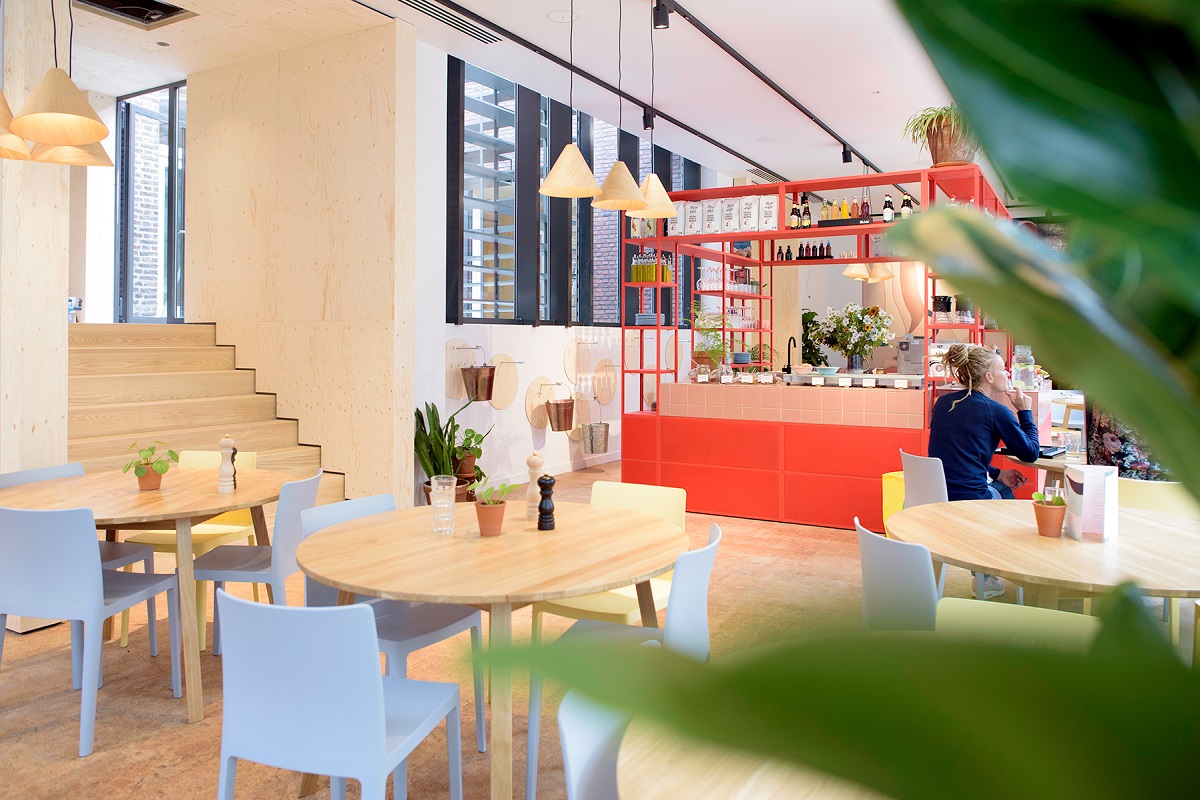 THE GREEN ELEPHANT HOSTEL MAASTRICHT
Dit gloednieuwe design hostel ligt op loopafstand van het Centraal station midden in 'Wyck', een gezellig en hip wijkje. Het heet niet voor niets de Green Elephant, want alles in dit hostel ademt groen. Bij het inchecken krijg je een gezond sapje en er is zelfs een Spa & Wellness waar je even helemaal tot rust komt. Overnachten doe je in je eigen Tiny Dream House, een gedeelde kamer of een luxe privékamer. Begin de dag met een uitgebreid vegetarisch of compleet vegan ontbijtbuffet. Ook 's avonds kun je heerlijk tafelen in het Serendipity restaurant.
This brand new design hostel is located within walking distance of Maastricht Central Station. It's called the 'Green Elephant' for a reason. Everything in this hostel breaths green. Upon check in you get a healthy juice and this hostel even has a Spa & Wellness Area. Spend the night in your own Tiny Dream House or in a shared room or luxurious private room. Kick start the day with an extensive vegetarian or vegan breakfast buffet, rich and plentiful, just how you like it.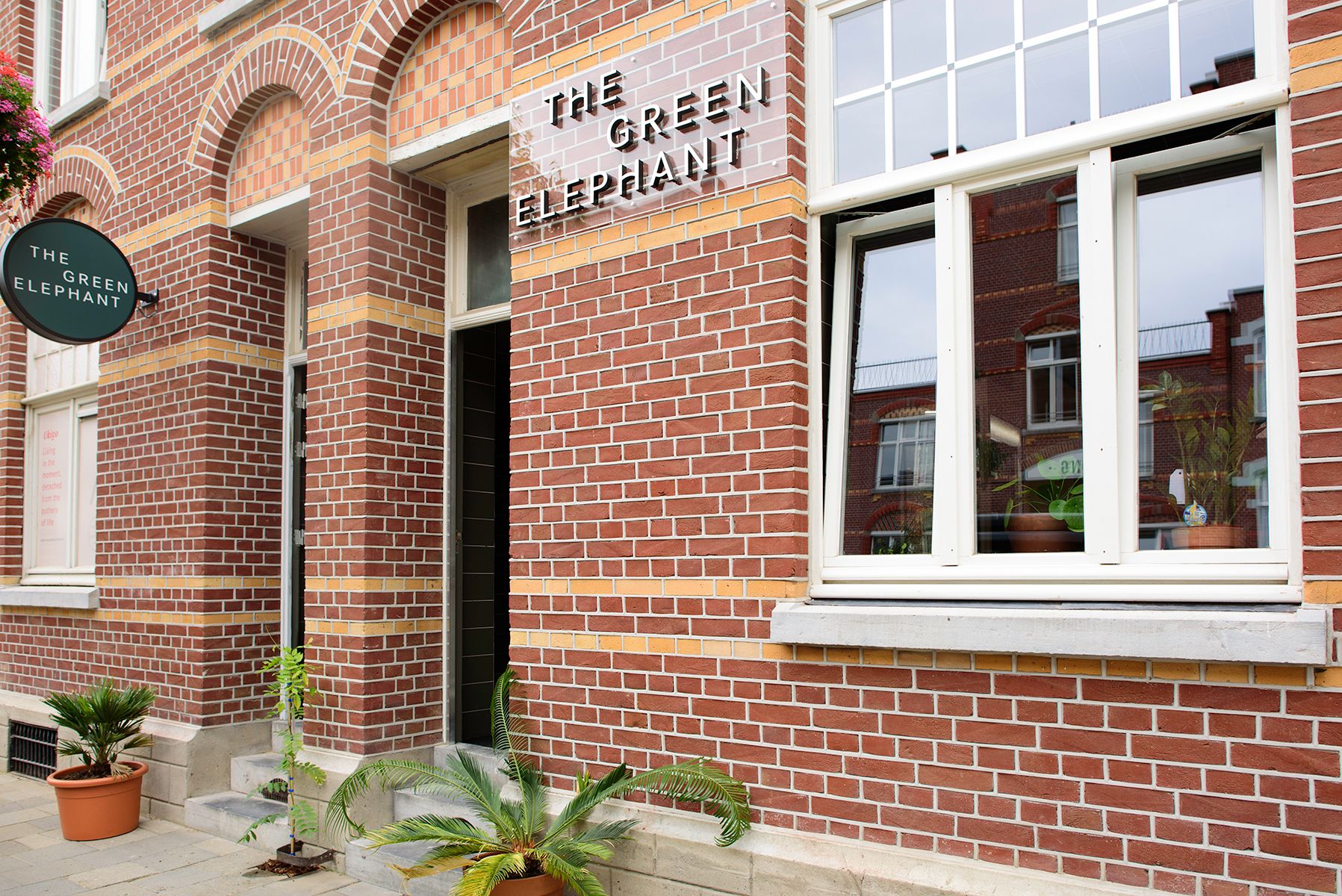 Charming building – great location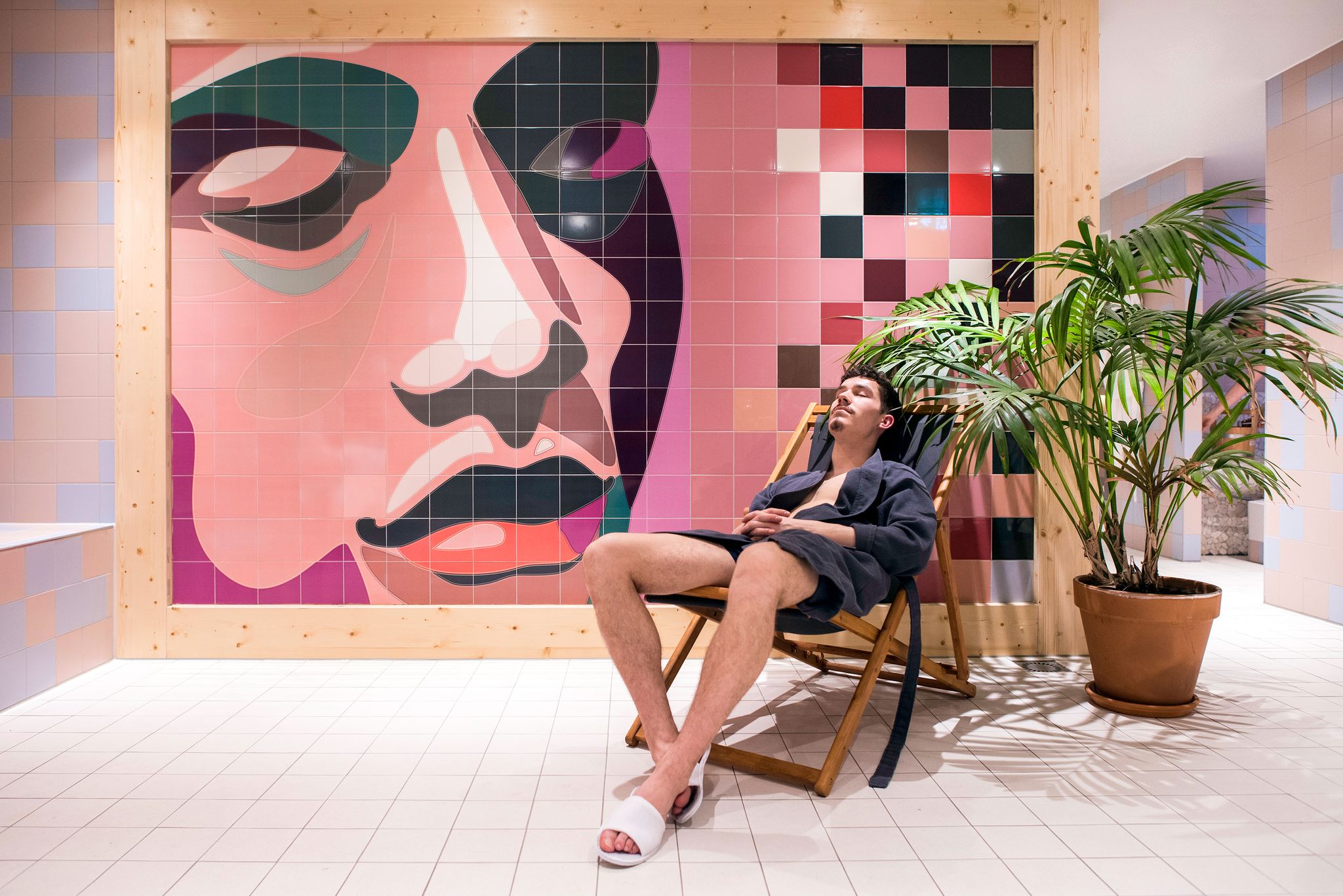 Relax & unwind in the hostel's Spa!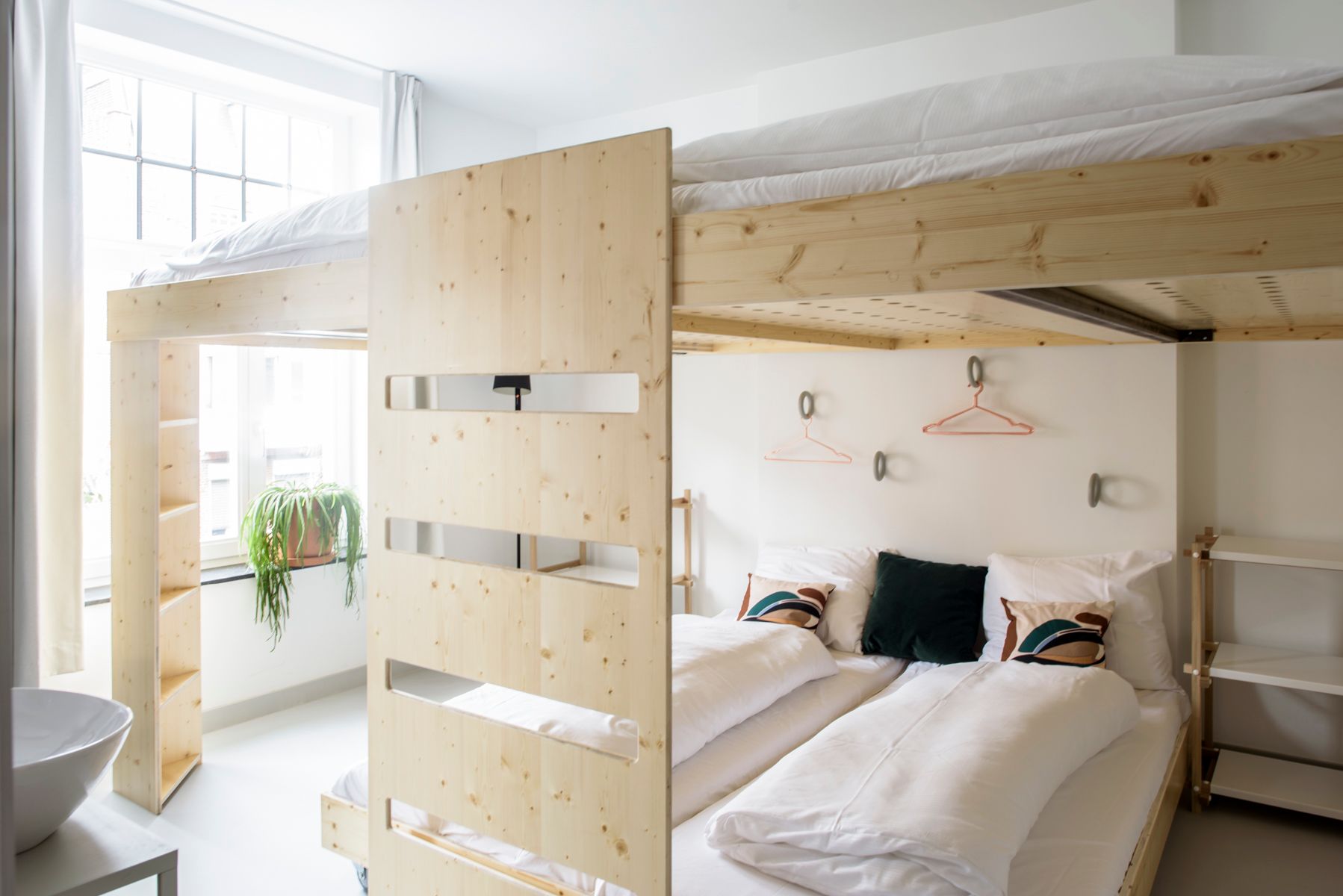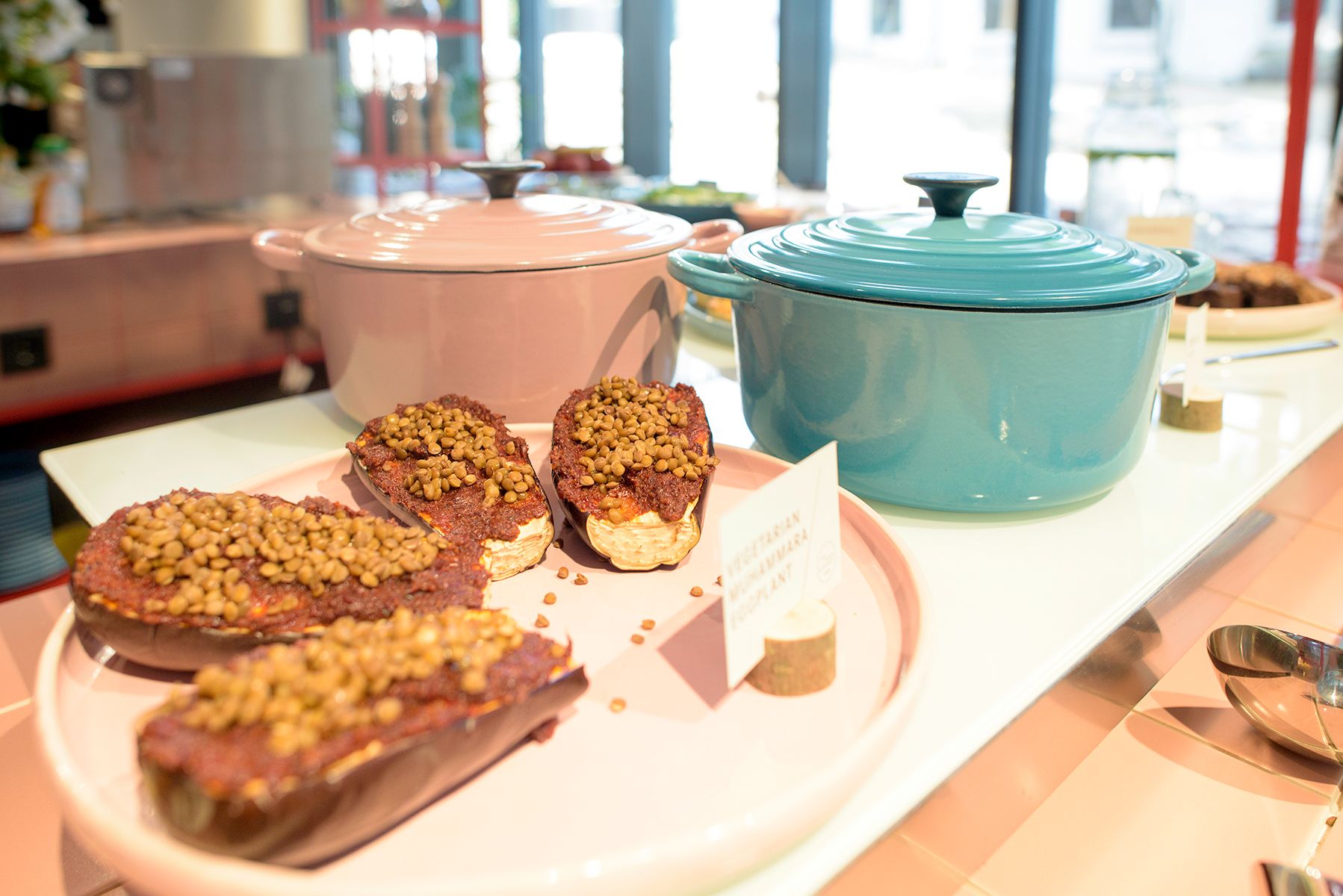 Recharge your battery with healthy food

HELLO I'M LOCAL HOSTEL HAARLEM
Dit boutique hostel in hartje Haarlem is het perfecte adres voor je fietstrip naar Haarlem. In Hello I'm Local vind je prachtig gestylede kamers. Er zijn luxe kamers voor 2 personen, grote kamers tot 8 personen, maar ook kamers met een ouderwetse bedstee. Ideaal voor gezinnen, stelletjes en vooral voor levensgenieters. Ook voor een goed ontbijt, lekkere lunch of drankje ben je welkom in de huiskamer van Hello I"m local. Bovendien is er een patio met open haard, de perfecte plek om na een dag fietsen lekker na te genieten en tot rust te komen!
This boutique hostel in the heart of Haarlem is the perfect spot for your bicycle trip to Haarlem. In Hello I'm Local you'll find beautifully styled rooms. There are luxury rooms for 2 people and large rooms for up to 8 people. It's ideal for families, couples and bon vivants. In the Hello I'm Local living room you're welcome for a good breakfast, delicious lunch or just a drink. They also have a patio with a fireplace! The perfect place to relax after a day of cycling.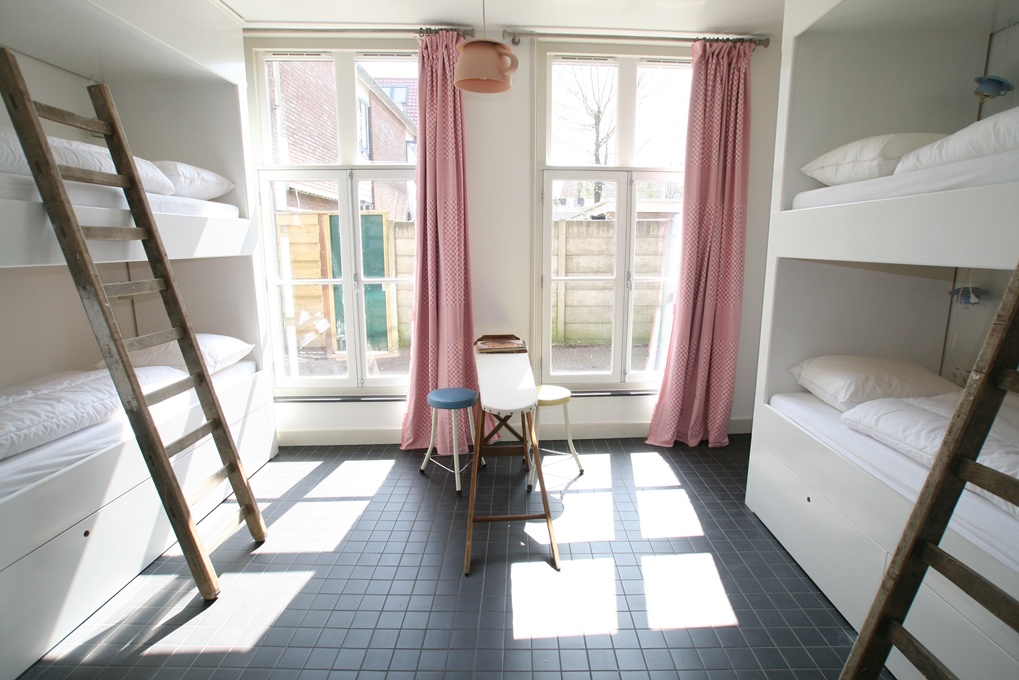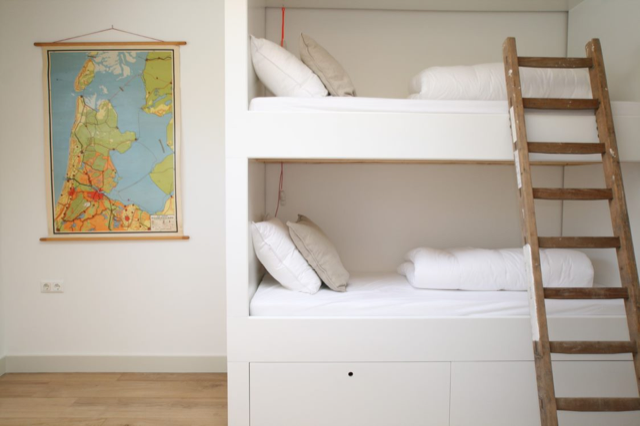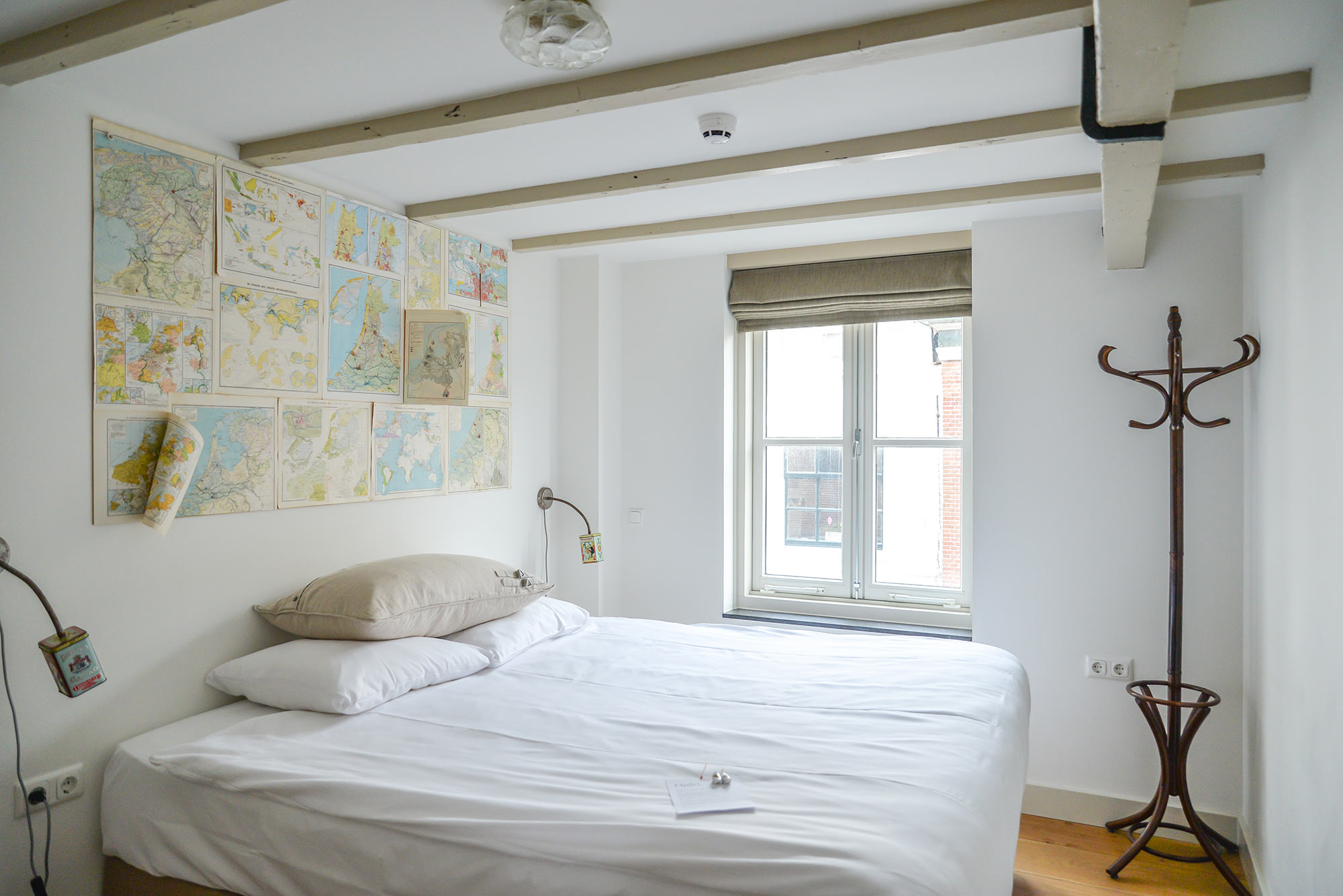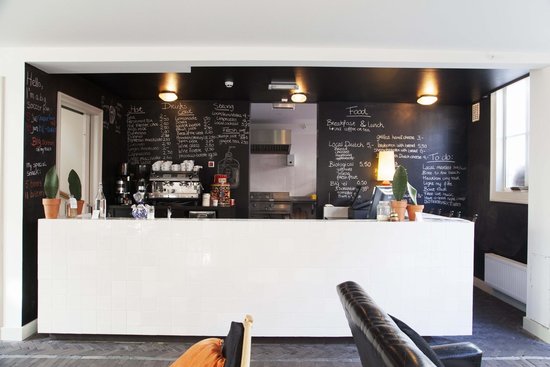 Restaurant for breakfast, lunch, dinner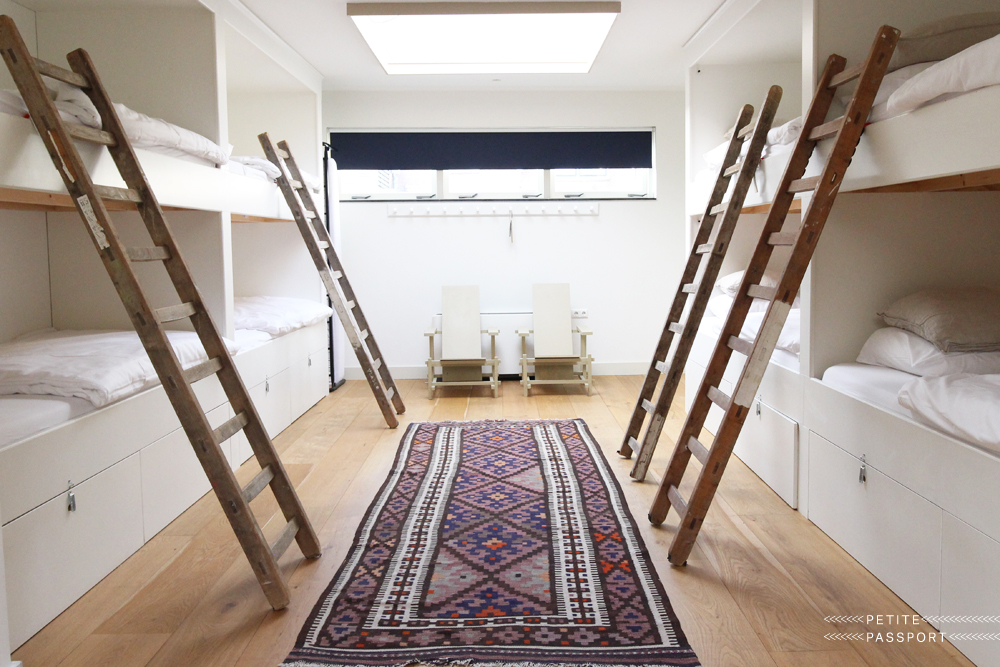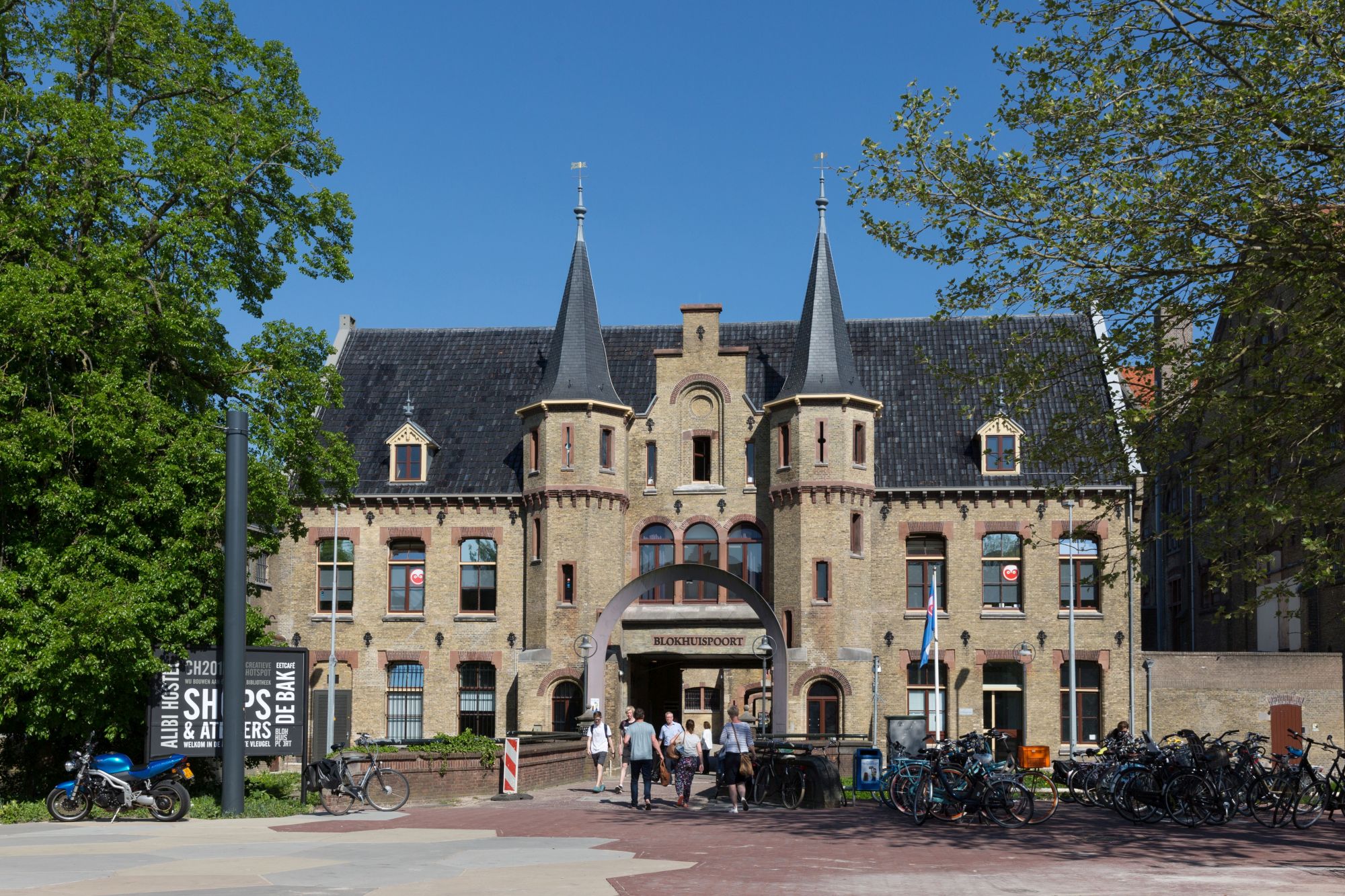 Altijd al willen weten hoe het is om in een gevangenis te slapen? Boek dan het Alibi hostel in Leeuwarden. Alibi hostel, het enige hostel van Leeuwarden, ligt in hartje centrum en is gevestigd in een oude gevangenis. Hoe cool is dat! Je boekt hier ook geen kamer, maar een cel. Maar je hoeft je zeker niet opgesloten te voelen, want Alibi hostel is van alle gemakken voorzien. Er is een fijne lounge, een bar en een gastenkeuken waar je zelf een maaltijd kunt bereiden. En na het ontbijt in de ochtend fiets je vervolgens weer fit en uitgerust je vrijheid tegemoet.
Did you always wondered what's it like to sleep in a prison? Then you should book the Alibi hostel in Leeuwarden. It's the only hostel in Leeuwarden and it's located in an old prison! How cool is that! Over here you don't just book a room, you book a cell. The Alibi hostel is super comfortable and fully equiped with everything you need! There's a nice lounge, a bar and a guestkitchen where you can prepare you own mail. In the morning there's a delicious breakfast waiting for you so you can start the day fit and energetic.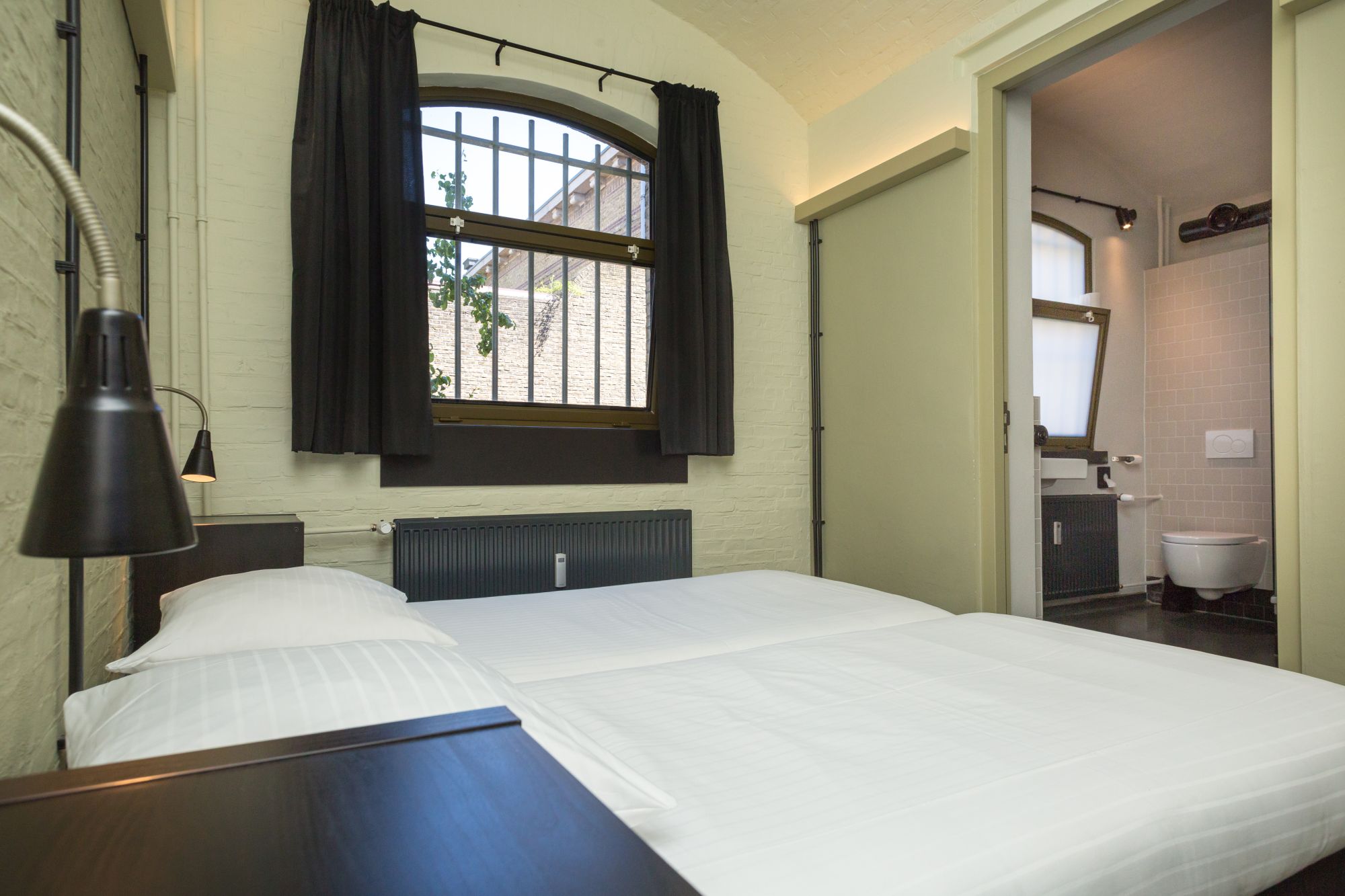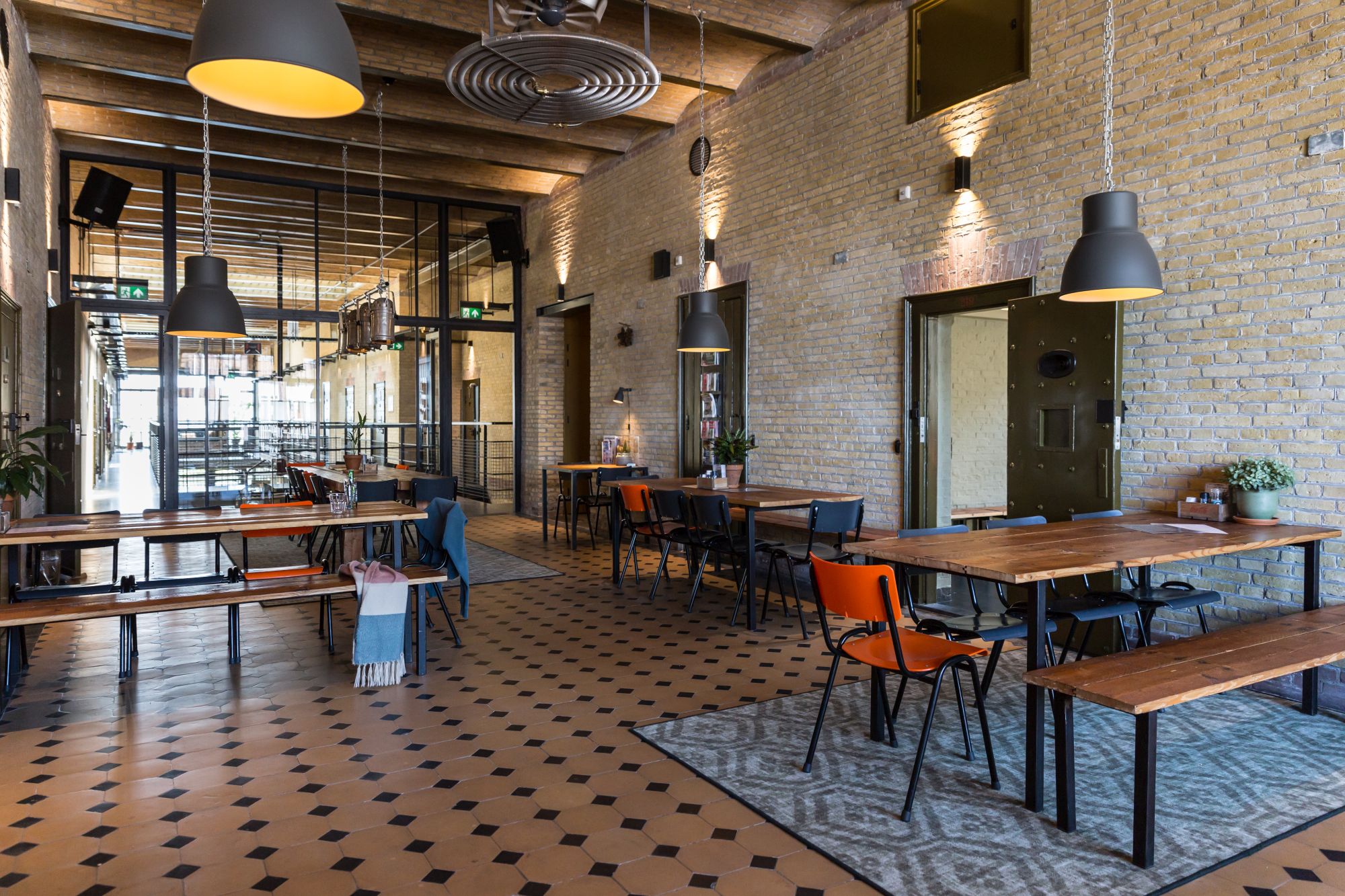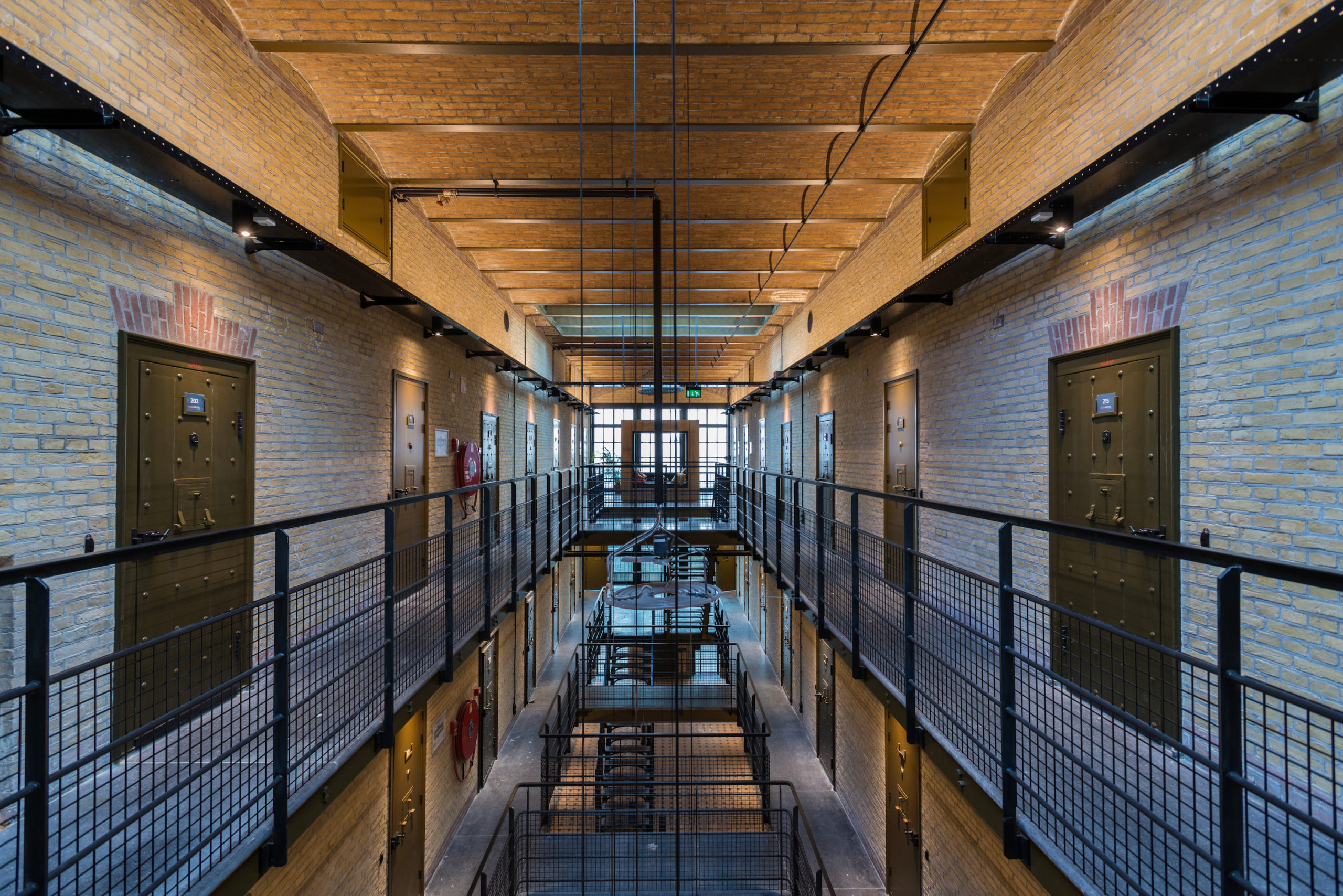 KING KOOL HOSTEL DEN HAAG
Royaal slapen in Koninklijk Den Haag, boek dan het King kool hostel. Dit hostel is een combinatie tussen een boutique hostel, design hotel en budget accommodatie. Dus voor ieder wat wils. Kingkool heeft een gezellige hostelvibe, maar er zijn ook luxe privekamers voor als je meer privacy en comfort wilt. Als je zin hebt in een drankje zit je hier ook goed. De gezellige bar is de perfecte plek voor je koffie in de ochtend en je biertje in de avond!
Sleep like a Royal in King Kool Hostel in The Hague. This hostel is the perfect combination between a boutique hostel, design hotel and budget accommodation. King Kool has a cosy hostel vibe, but there are also luxurious private rooms for those in need of more comfort and privacy. You're also in the right place if you fancy a drink. Their bar is the perfect place for your morning coffee or your beer at night.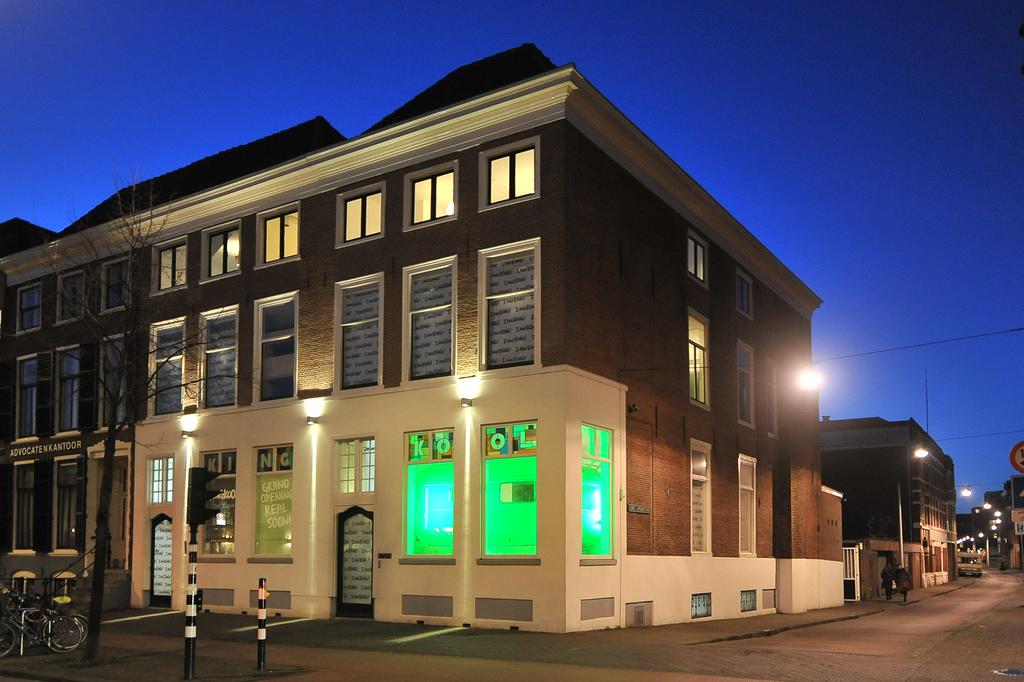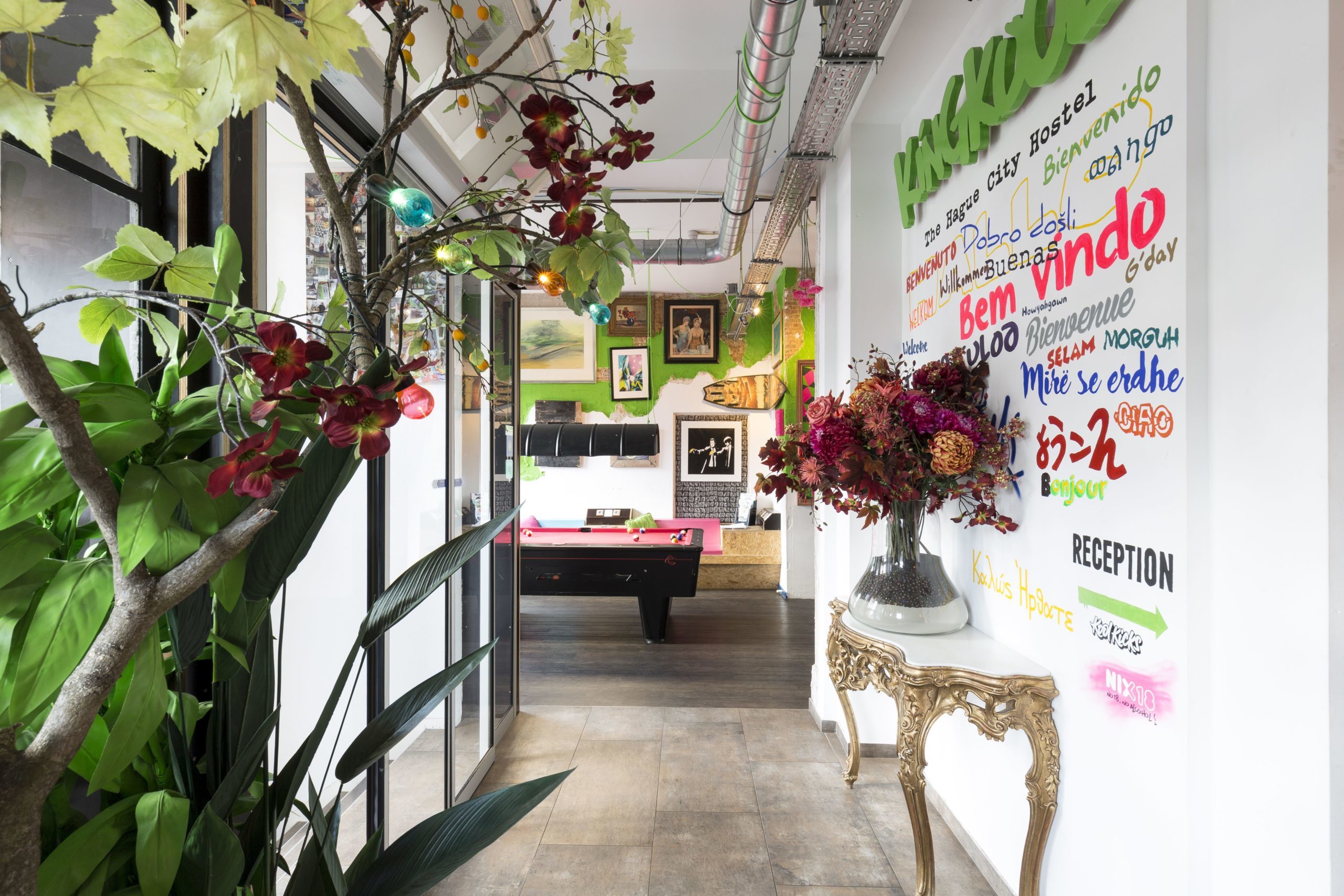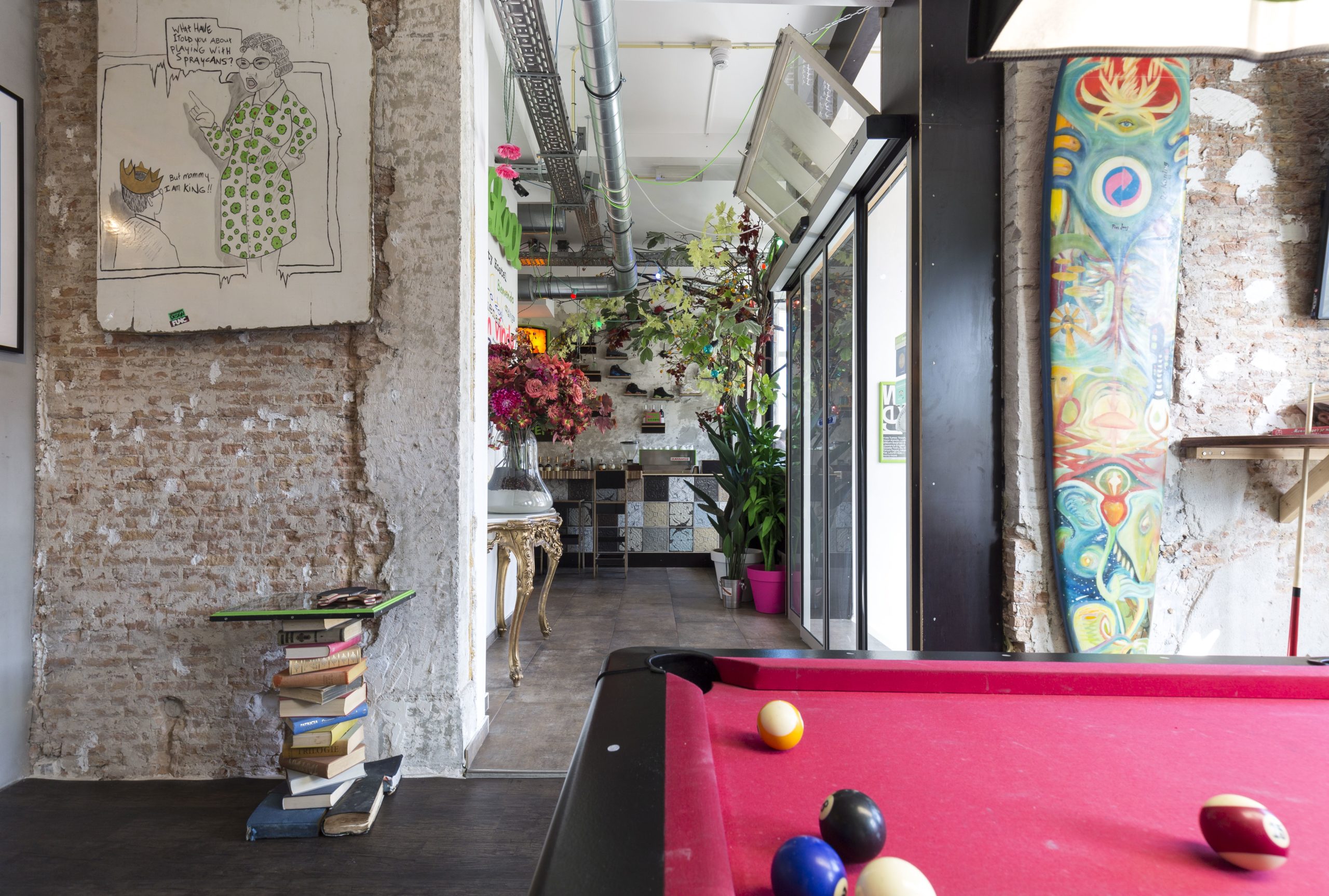 Bar & lounge King Kool Hostel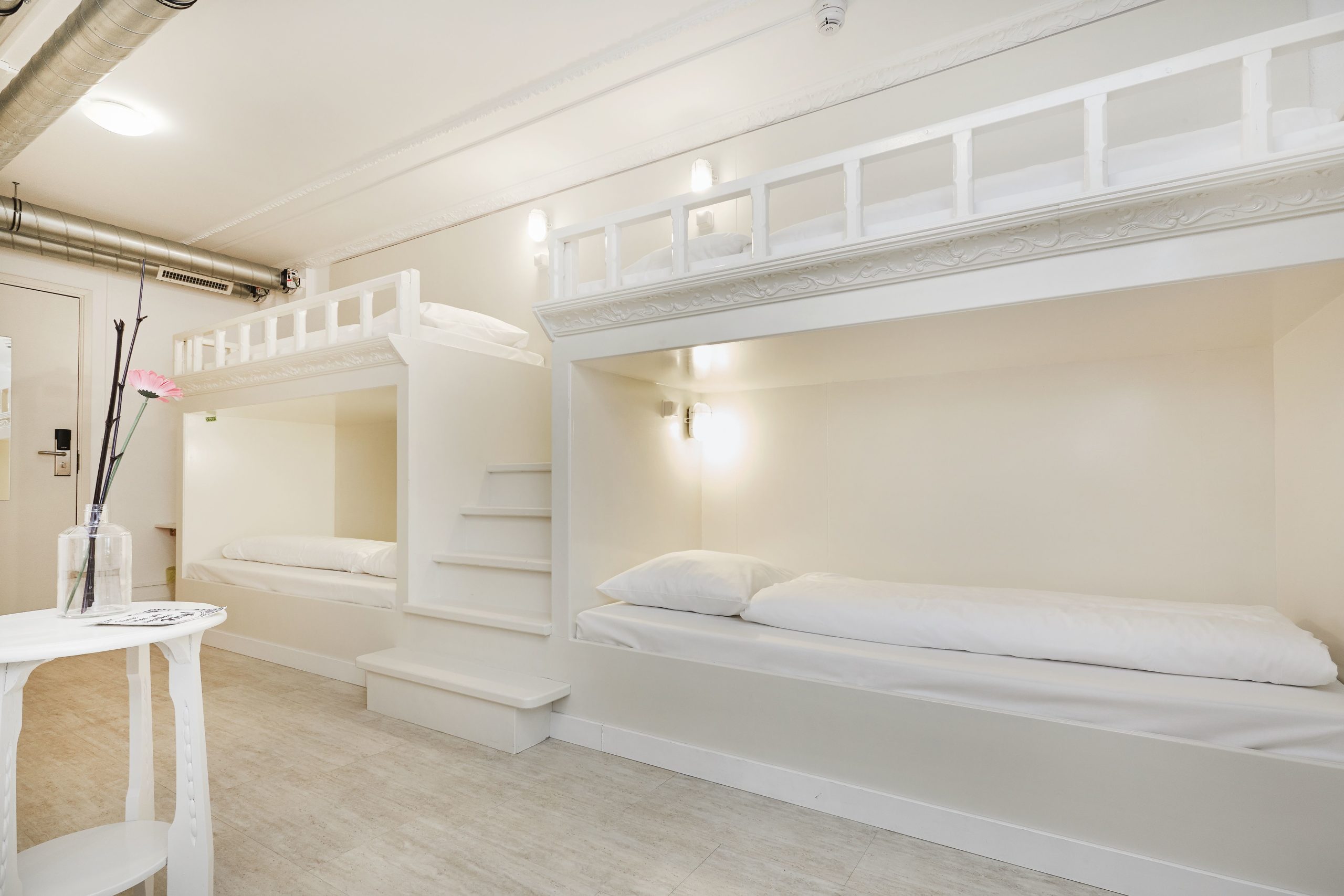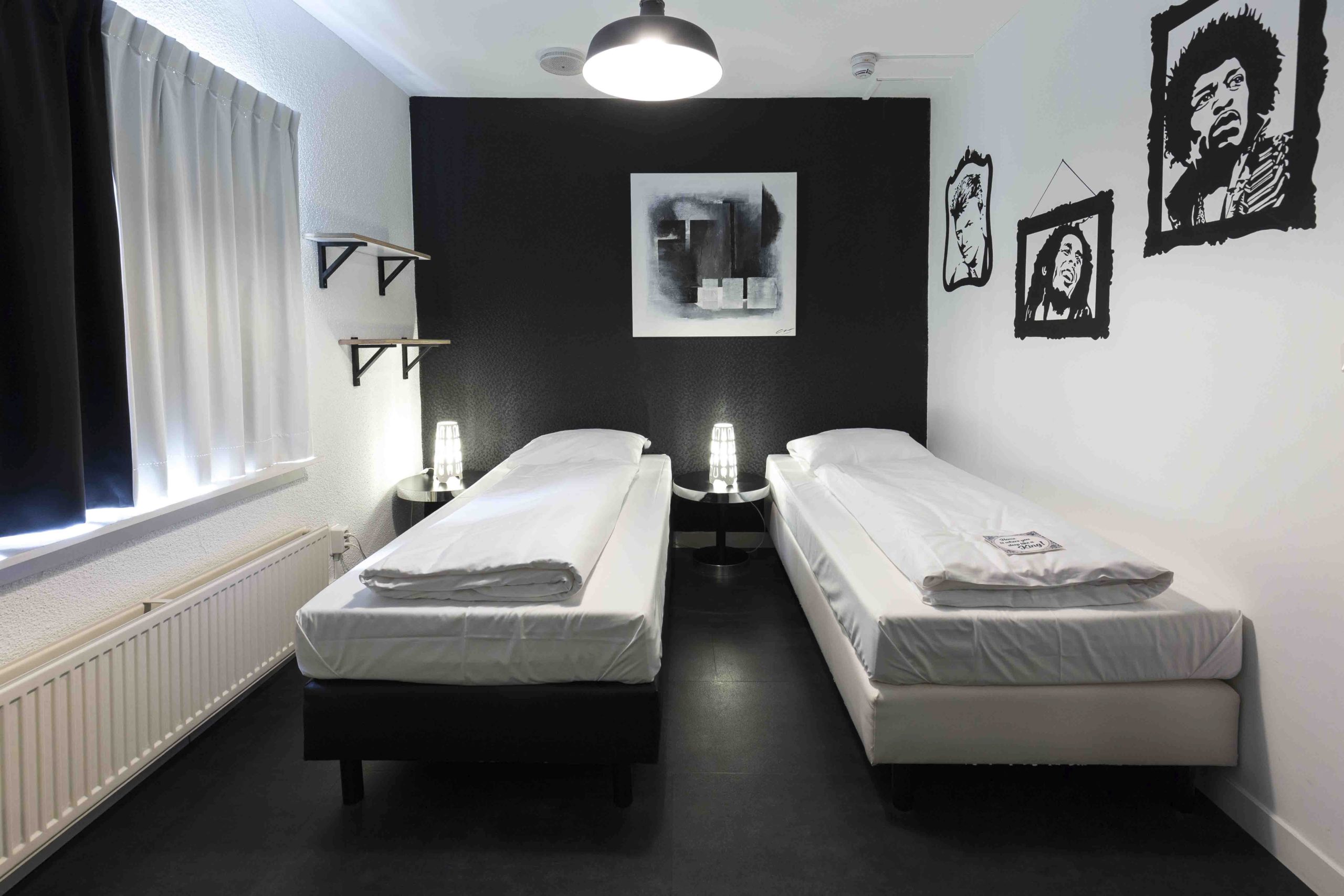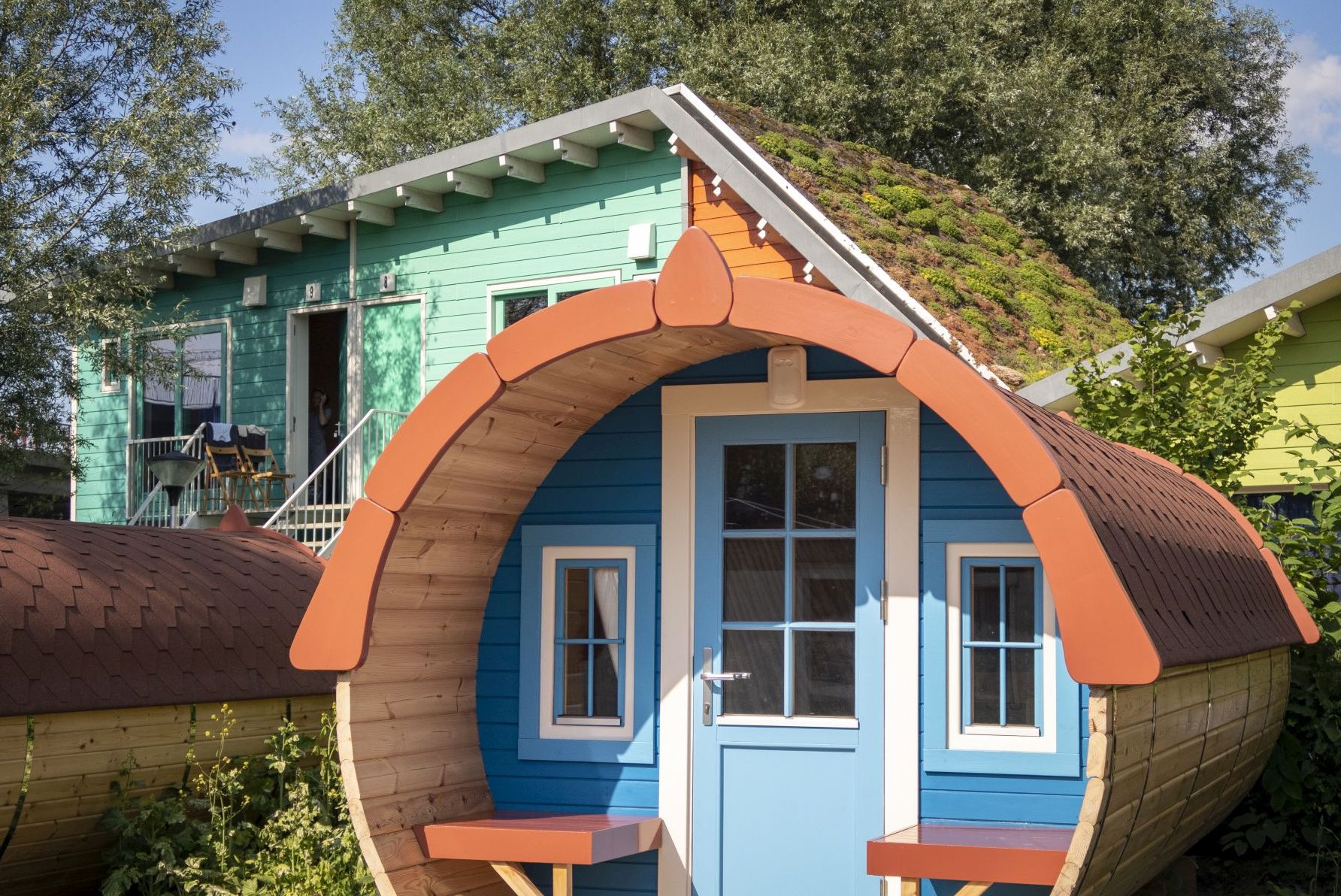 CAMPING ZEEBURG AMSTERDAM
Als je van plan bent Amsterdam te bezoeken, dan is camping Zeeburg de ideale uitvalsbasis. De camping ligt op een bijzonder plekje, namelijk op een eiland in het Ijmeer. Hier kampeer je in de achtertuin van Amsterdam, maar toch midden in de natuur en met de fiets ben je binnen no-time in het centrum. De camping staat bekend om zijn duurzame karakter en kleurrijke uitstraling. Een unieke groene oase nabij de Amsterdamse stadsjungle. Van alle gemakken voorzien, een supermarkt met dagelijks verse croissants, koffie en broodjes, wasserette met droger en nog veel meer.
If you are planning to visit Amsterdam, Camping Zeeburg is ideally located. The campsite is located in a special area, on an island in the Ijmeer. Here you can camp in the backyard of Amsterdam, but still in the middle of nature and by bike you can find yourself in the city centre in no time. The campsite is known for its sustainable character and colorful appearance. A unique green oasis near the Amsterdam urban jungle! Fully equiped, a supermarket with fresh croissants daily, coffee, laundry with dryer and much more.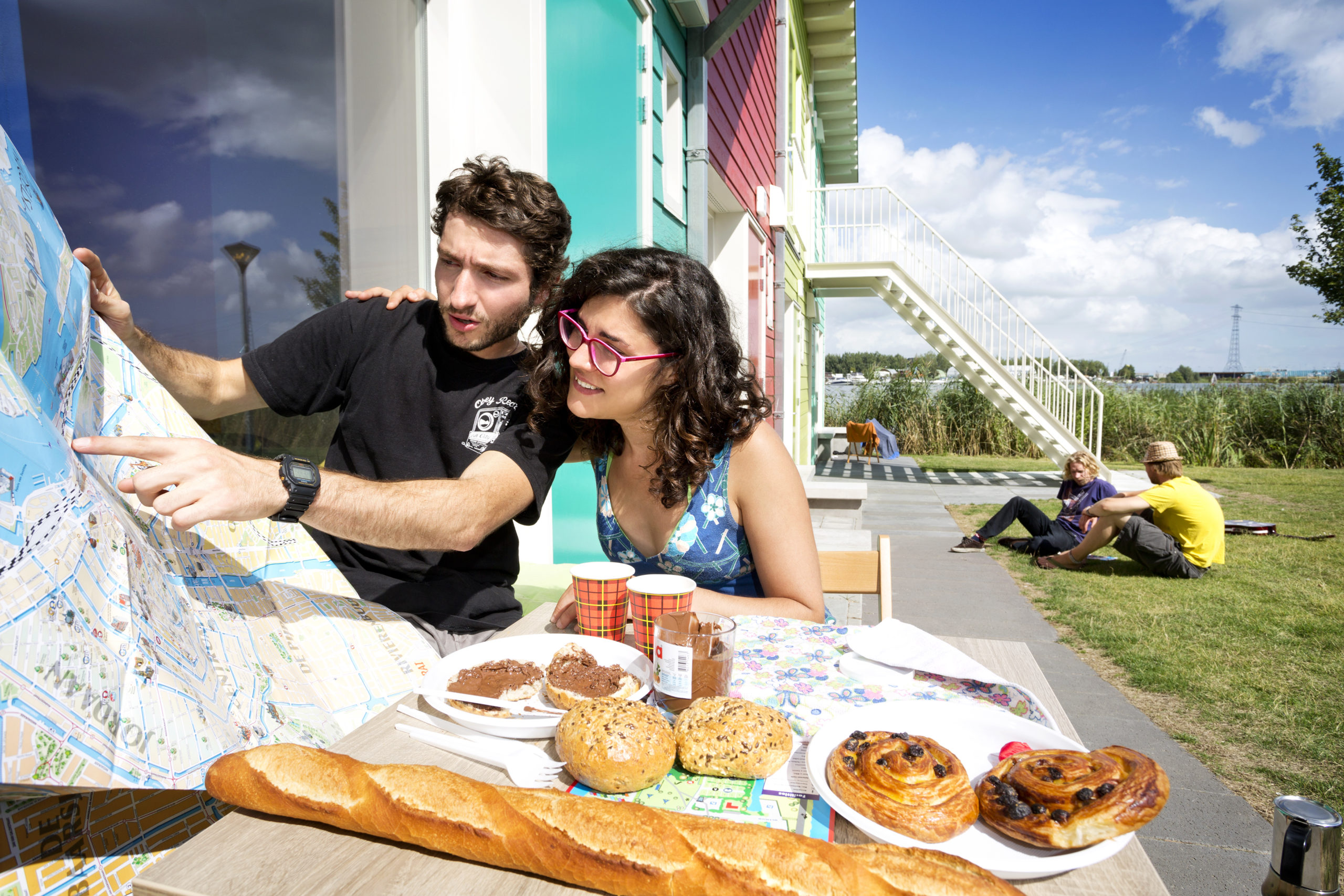 Breakfast at Camping Zeeburg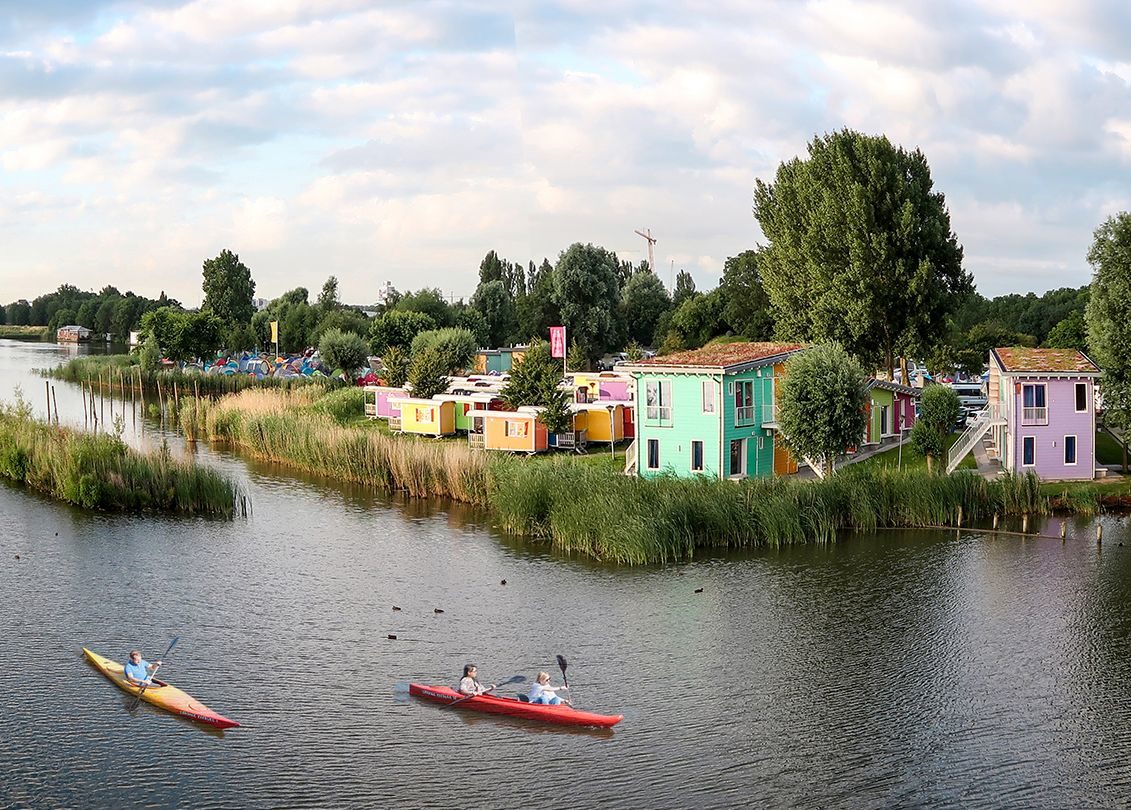 Rent a SUP or go canoeing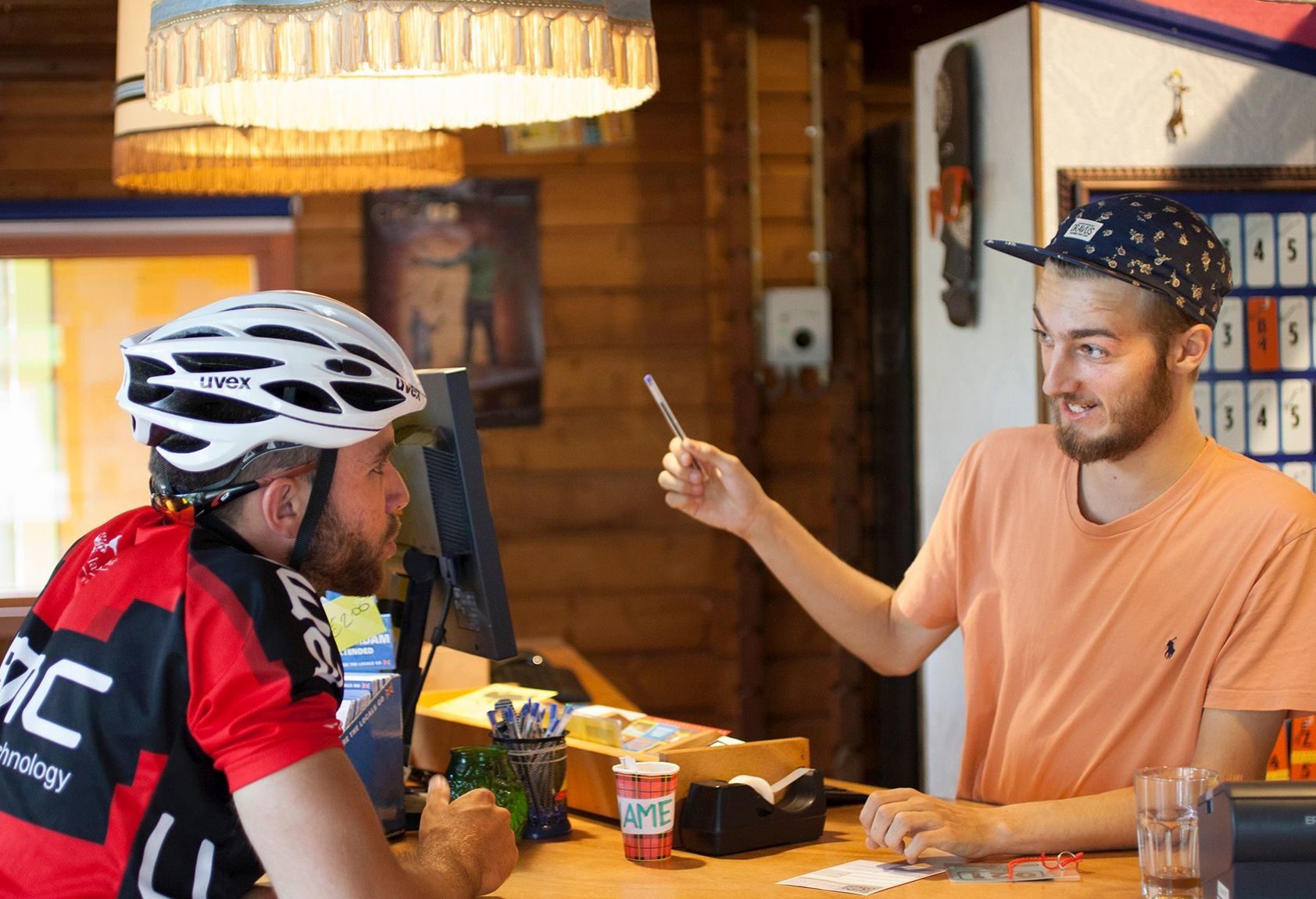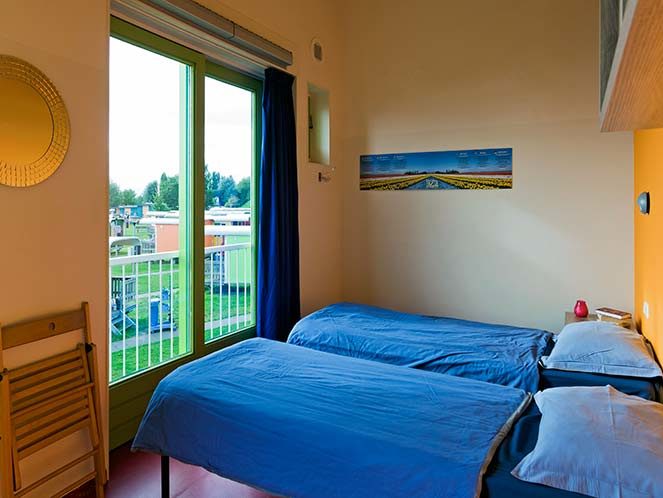 DE UYLENBURG DELFGAUW (DELFT)
Buitengoed de Uylenburg is een prachtig landgoed, midden in de Randstad, maar als een oase in het groen. Het landgoed ligt 'off the beaten track', op slechts een uurtje fietsen van Rotterdam en Den haag, en is echt een juweeltje. Bijzonder gelegen nabij het 'Bieslandse Bos' en het eeuwenoude centrum van Delft om de hoek. Overnachten kun je in een van hun 2 persoonskamers, maar er zijn ook kamers voor 4 personen. In de tuin vind je leuke picknickplaatsen, een buitenbar en kampvuurplaatsen. Er is ook nog een vintage Airstream caravan waar je midden in het groen de nacht kunt doorbrengen.
Buitengoed de Uylenburg is a truly a hidden gem, right in the middle of the Randstad, but still 'off the beaten track". It's just an hour's bike ride from Rotterdam and The Hague. The historical center of Delft is around the corner. Here you can relax and unwind in a green oasis. You can spend the night in one of their double rooms, but there are also rooms for 4 people. In the garden you will find picnic places, an outdoor bar and campfire places. There is also a vintage Airstream caravan where you can spend the night surrounded by nature!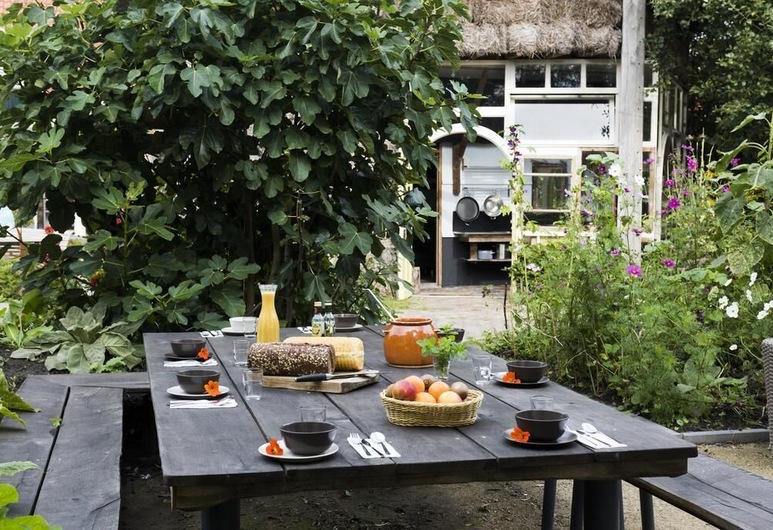 Lovely garden with picknick places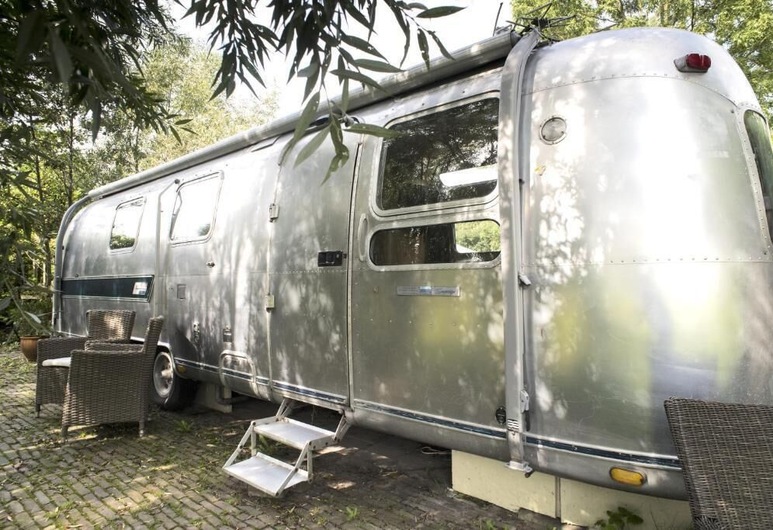 Spend the night in this vintage caravan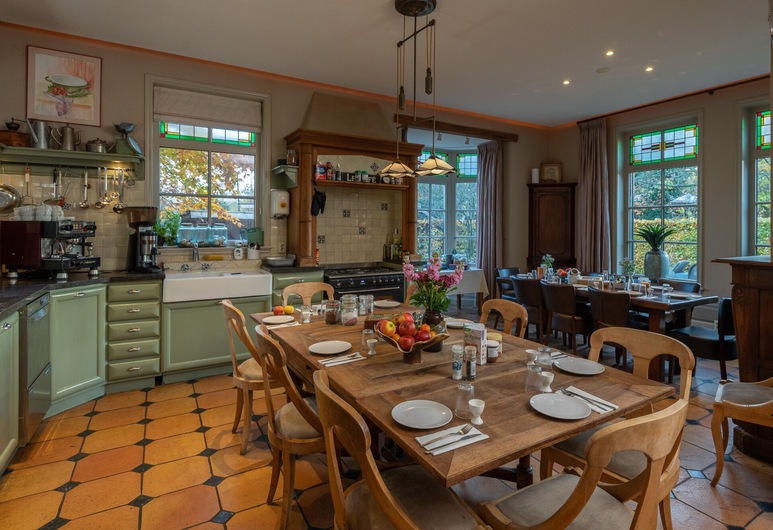 Authentic & charming breakfast room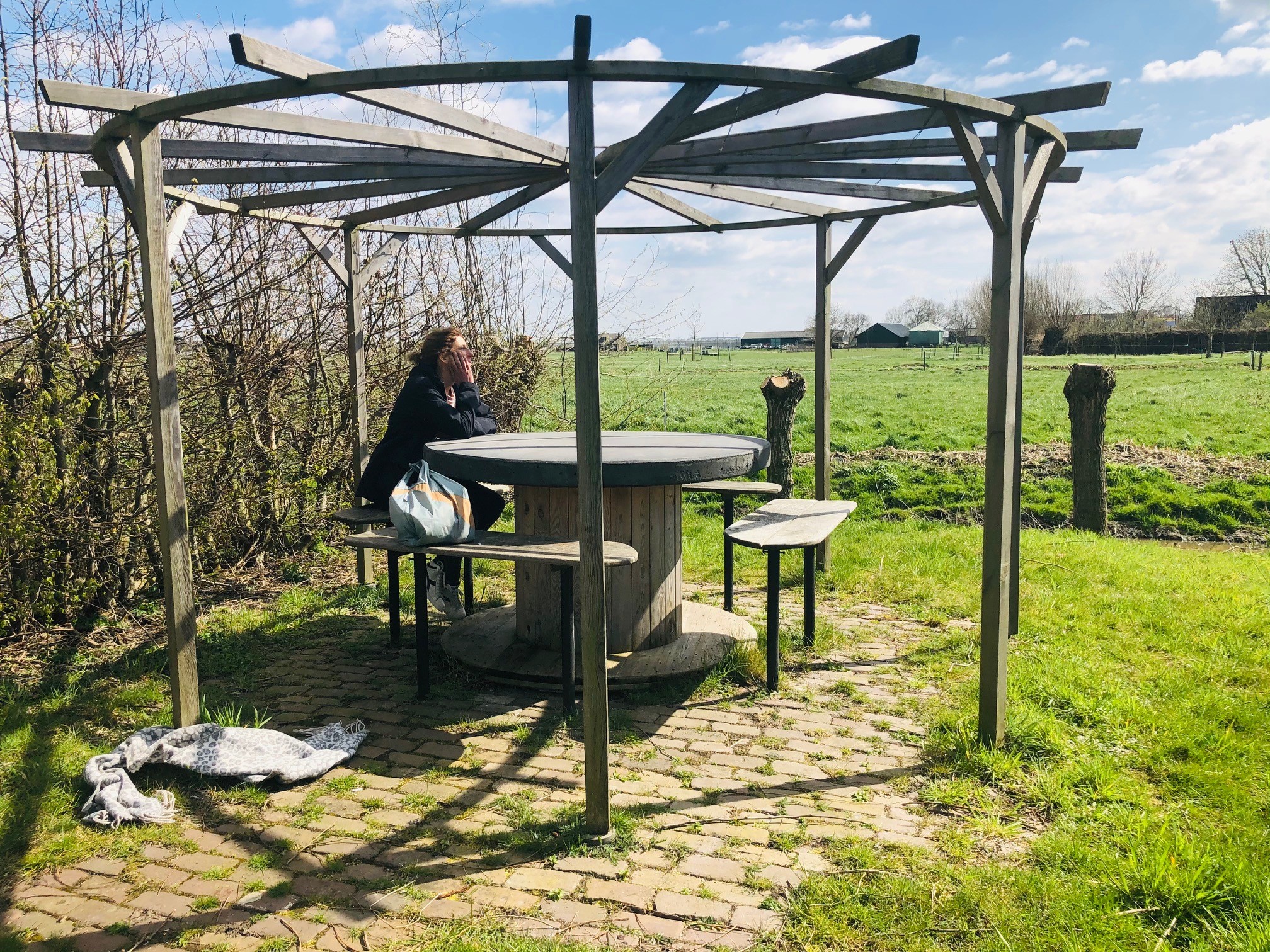 A green oasis to relax and unwind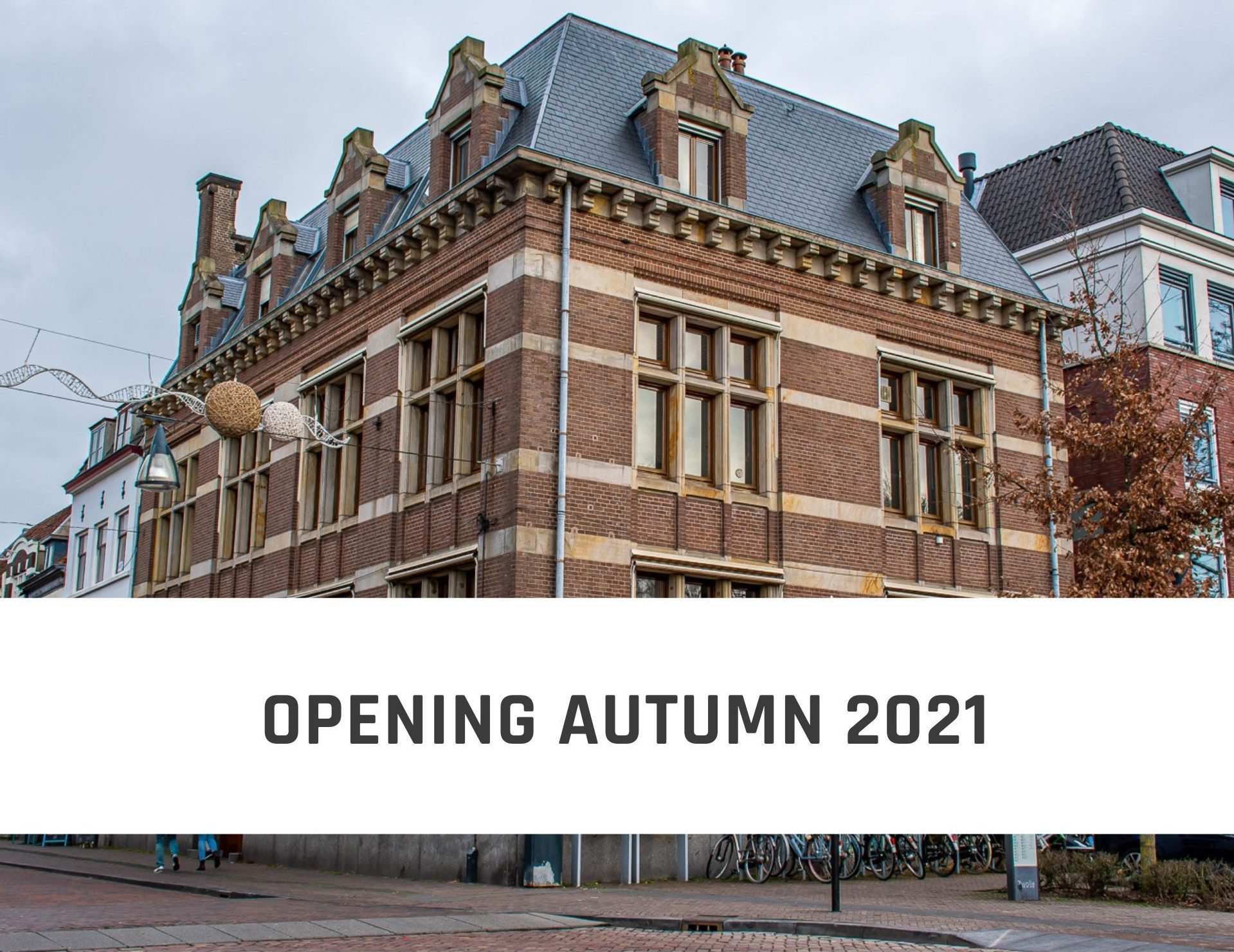 Dit hostel in Zwolle is nog niet geopend, maar we willen je deze parel in wording zeker niet onthouden. Hostel De basis opent In het najaar van 2021 zijn deuren, in een voormalig politiebureau midden in het centrum van Zwolle. Op de begane grond is een horecaruimte met Pitabar voorzien. Op de bovenetages vind je 2- en 4-persoonskamers met ieder zijn eigen sanitair. Een overnachting in Zwolle is natuurlijk een prachtig verbindingspunt van de Randstad met het noorden van Nederland. Daarom mag een overnachting in hostel de Basis zeker niet ontbreken!
This hostel in Zwolle has not yet opened its doors, but we certainly do not want to withold this soon to be completed piece of art! In the autumn of 2021 Hostel de Basis will greet its first guests inside a former police station right in the center of Zwolle. There will be a catering area with a Pita Bar on the ground floor. Upstairs you will find 2- and 4-guest rooms with for each its own sanitary facilities. Zwolle is the perfect cycling hub that connects the Randstad to the North of the Netherlands. Therefore Hostel De Basis is an essential part of every cyclists bucket list!